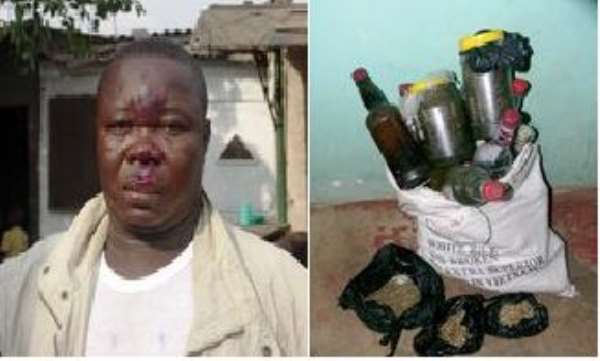 A group of policemen who undertook a swoop at Tema Community One, Site 2, to arrest drug dealers last Sunday, found themselves under attack by the criminals, causing them to flee a hail of stones.
On Sunday morning, the policemen had stormed a lane in the area known as "Corridor" as part of a routine patrol of the harbour city, in an operation to arrest drug peddlers and users, as well as alleged hardened criminals.
Immediately on their arrival, they fired a number of warning shots before moving into action to effect the arrests.
But the alleged criminals who seemed to have been alerted about the operation, counter-attacked, hurling stones at the policemen who took to their heels, running in various directions.
The police however regrouped later and managed to arrest three people, one of whom was identified as Ibrahim Abubakar, and was said to be in possession of some dried leaves suspected to be Indian hemp.
The other two, whose names were not given, were arrested for allegedly throwing stones at the police to disrupt the operation.
The Assemblyman for Kwesi Plange Electoral Area, Alhassan Issah, who was present at the time of operation, told the Times that during the confrontation, a passer-by, named as Adam Abdulai, 43, was hit at the back of the head by a stone sending him crashing to the ground.
In the process he sustained injuries on the head and the face.