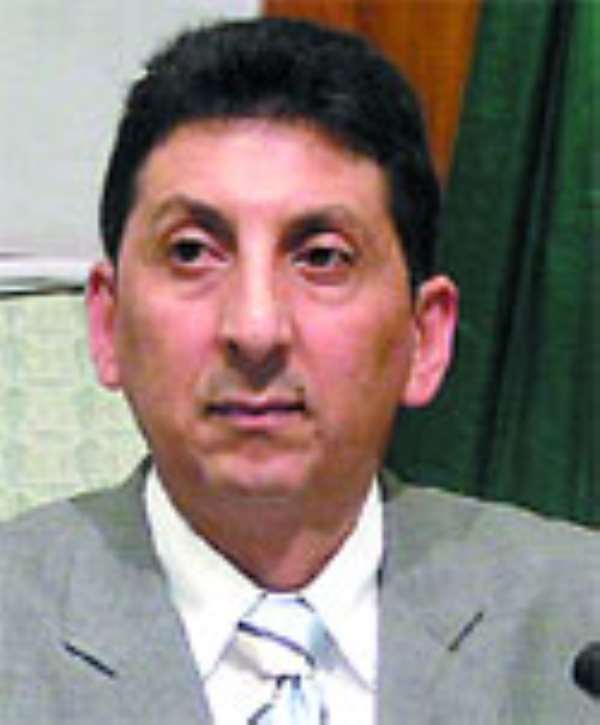 • Mr. Ahmad Farrouk
Several days after international corporate legal hot shot, David Andreas Hesse, stopped MTN/Areeba from their extraordinary shareholders meeting, the mobile phone behemoth has not reacted to this most extraordinary action precipitated by the man who is the company secretary and a director of Areeba, Ghana.
Chronicle intelligence however spotted Mr. Ahmed Farrouk who was the Managing Director of Areeba Ghana office until the MTN buyout, when he was unceremoniously bundled out of Ghana at a time he had concluded the arrangement to move Areeba's offices to the SSNIT -owned posh Ridge Towers, flew in via British Airways to Accra on Monday morning . He has been mentioned in substantial parts of David's court processes alleging shocking malfeasance and plain fraud.
Chronicle has had discussions with the accounting firm that audited Areeba's books, KPMG, and they have explained how they okayed the eye-popping issues of transferring over 50 percent of revenue outside the country as professional and legal fees.
Other major accountants differ significantly on how KPMG could pass such numbing figures without a shareholders' meeting but simply a signature from Farrouk as MD of the company.
Mr. Hesse, in sworn depositions to the Accra Commercial Court on Monday morning recounted how his shares were taken from him under a cloud of fraud, which he later discovered, with his Lebanese partners asking that 'all non-Arab shareholders' should relinquish their shares for them to be able to raise the capital requirement for their expansion into Cyprus.
David claims in court papers that 'a share trust dated 31st October 2002, which was a basic agreement stating that upon the transfer of my shares (to Investcom, owners of Areeba), they would hold those shares in trust for me'.
Secondly, he continued, 'a share sales transfer agreement dated 31st October 2003, under which I agreed to transfer its shares to Investcom, and thirdly, a share 'transfer agreement also of the same date by which I effected the actual transfers of the shares.'
He said that he executed all the agreements on the strength of the assurances that Investcom would hold his shares in trust for him until the Cyprus expansion and on the strength of the share trust deed.
He said that he handed the relevant agreements to Farrouk for Mikati to sign in Beirut and return to him, but they did not despite his persistent demands from Mikati, the Group CEO and Farrouk.
He explained that continuous payment of $1,500 into his NIB bank account was actual payment of his dividends and 'no consideration' was ever paid for the transfer of shares because it was only for them to hold it in trust.
Continuing, David said that it was until this year when MTN took over, that immense pressure was piled on him 'to issue backdated invoices covering my dividend payments and re-classify them as legal retainer fees paid to my law firm'. He firmly refused to 'aid the defendants in the alteration of their records and 'with this refusal the defendants stopped paying my dividends.'
' That with growing suspicions, I renewed my demands for copies of the three agreements from the defendants but they refused to hand over my copies until an English solicitor, engaged by MTN, demanded that the defendants return my copies of the three signed agreements to me.