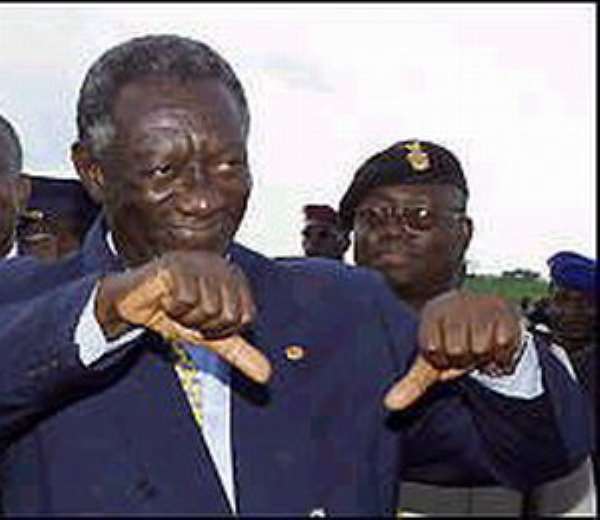 PRESIDENT JOHN Agyekum Kufuor has thrown Ghana's weight behind the Hague-based International Criminal Court (ICC), stating that Ghana had already expressed this in a statement of support to the court.
President Kufuor disclosed this when he conferred with the first Vice President of ICC, Prof Ekua Kuenyehia at the Castle, Osu yesterday.
He expressed the observation that the world was becoming conscious of the necessity to uphold humanity and that once there was a violation of human rights, the people must be brought before the court.
The court's major concern, he observed, centred on protecting and advancing the humanitarian process, and Ghana was proud to have Prof Kuenyehia on what he termed the 'futurelistic' court.
President Kufuor described as a sad reflection on the continent, the fact that all the four cases before it were from Africa.
'It is something that was not totally surprising, given the conflicts, brutality, turbulence and genocide in some parts of the region."
The cases were from Darfur, North Uganda, the Central Africa Republic and the Democratic Republic of Congo.
Commenting on the Darfur situation, President Kufuor said the problem was too broad and sensitive and the Africa Union (AU) would spare no efforts to return that country to normalcy.
Prof Kuenyehia who extended greetings from the entire court to President Kufuor, commended Ghana for her continual support to the court.
She said the court had just finished the hearing on Uganda's rebel, Lord Resistance Army Leader, Joseph Kony and four other senior leaders in the Northern Uganda, stressing that the court had issued arrest warrants for these people.
Earlier, President Kufuor had received the family members of the late Speaker of Parliament, Rt Hon Daniel Annan who had called to express appreciation to the government for honouring the late Speaker with a state burial.