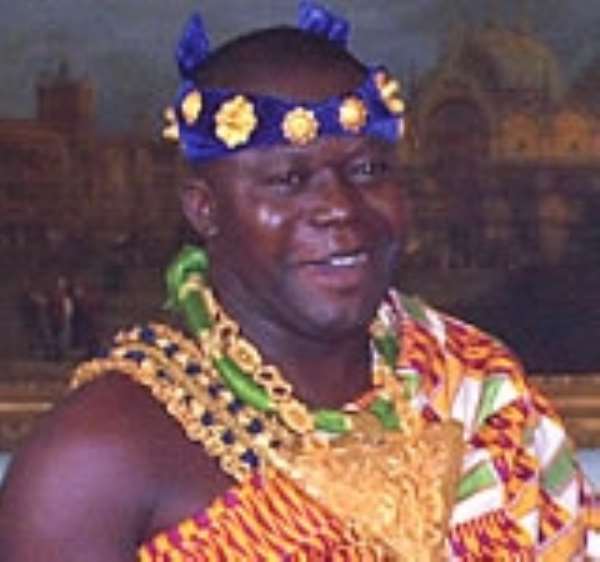 Otumfuo Osei Tutu II, the Asantehene has donated ¢100 million to the Seikwa Development and Education Fund.
The occasion was the 15th anniversary of Nana Kwaku Dwumma Ankoanna II, Omanhene of Seikwa Traditional Area in the Brong Ahafo Region which coincided with the official launch of the Fund with a target of ¢660 million.
The Asantehene noted that supporting education was worthwhile since it would enhance rapid development and urged all and sundry to contribute towards it.
He said with the completion of 40 schools under the PPTAP in Ashanti Region with funding from the World Bank, it was now the turn of the Brong Ahafo Region to benefit from a similar grant.
He promised that as long as education was concerned, he would assist in the development of education in every part of the country without bias.
The King commended the Chiefs and people of Seikwa for living in peace and unity over the years.
Nana Dwumma Ankoanna announced that with the support of his people, he had embarked upon numerous development projects including a six classroom block at a cost of ¢350 million and the rehabilitation of the palace at ¢15 million.
On the social front, he said he had banned expensive funerals in line with poverty reduction strategies by the government.
According to him, having realized the immense benefits of the Otumfuo Education Fund, he decided to introduce it at Seikwa to enhance development and called for support for its success.
The Paramount Chief as well thanked Otumfuo for his presence at the launching saying Otumfuo Osei Tutu is the first Asantehene since 1956 to visit Seikwa Traditional Area. 'We are highly touched and are thankful for the honour done us", he said.
The Brong Ahafo Regional Minister, Mr. Ignatius Baffour Awuah lauded the unity between Ashanti and Brong Ahafo and indicated that it was an antidote to Ghana's woes.
He urged the people of the two Regions to be united by the historic visit of the Asantehene to forge ahead.
The Minister appealed to the Asantehene to channel some of his numerous development projects to Seikwa and other towns in the Brong Ahafo Region.
On behalf of the government, Minister Awuah presented ¢10 million to the Seikwa Development and Education Fund.