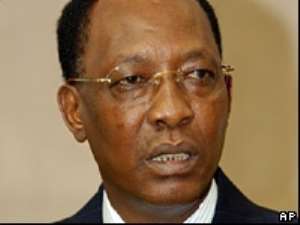 President John Agyekum Kufuor yesterday received a special message from his Chadian counterpart, President Idriss Deby, at the Castle, Osu.
The message, which was delivered by a special envoy to the Chadian President, Dr Nouradine Delwa Kassire Coumakoye, was in relation to the clutch of rebel movements appearing to co-operate in their efforts to overthrow President Deby.
Dr Coumakoye, Minister of State in-charge of Territorial Affairs, Town Planning and Housing, who led a high-powered delegation to the Castle, told President Kufuor that he had been sent by his counterpart to deliver a message on the worrying situation in Chad, to enable him (President Kufuor) learn at first hand, the situation in that country so as to lend his solidarity to them.
In a brief response, President Kufuor said he had been closely following developments in Chad, and of the entire neighbourhood.
It would be recalled that over the weekend, rebels, led by former Defence Minister, Mahamat Nouri, briefly took control of the main eastern town of Abeche - both a military hub and the humanitarian base for Darfur refugee relief, while a separate rebel movement headed for the capital N'djamena, 550 miles away.
France, which helped Mr. Deby foil a rebel attempt to overthrow him in April, warned that the capital could be attacked "within 24 hours".
Analysts say the threat to Mr Deby appears more acute than before, because the various rebel militias looking to depose him are working together.
Apart from the UFDD, the main rebel group is the Rally of Democratic Forces (RAFD), led by the twins, Tom and Timan Erdimi, former aides to the president.