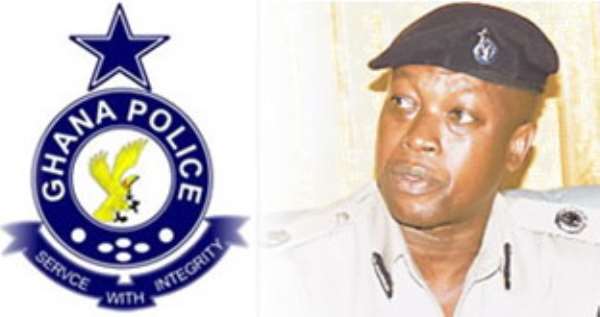 The dailyEXPRESS can today reveal that the (sent on leave) Police Operations Chief, ACP Kofi Boakye would not be prosecuted after all. This will be welcoming news to many of his admirers and family, but to others, a disappointing piece of news.
Available information, corroborated by sources within the police service and the Attorney General's department indicates that ACP Boakye may instead be used as a prosecution witness, to testify in the on-going cocaine prosecutions. This could mean the ACP would be free of any offence and should be returning to his post soon.
Lawyers of the embattled police boss could not be reached about this obviously 'good piece of news', but our sources confirmed that the lawyers and the ACP himself have been made aware of the new developments.
ACP Kofi Boakye, in whose house a meeting of persons now suspected to be involved in narcotics drugs was taped, was expected to be prosecuted on a charge of conspiracy to import and export drugs without license under PNDC law 236. This was after he was invited by the Bureau of National Investigations (BNI) on Friday September 29, around the same time that Interior Minister Albert Kan Dapaah was announcing his ministry and government's position on the recommendations of the Justice Georgina Woode Committee.
The former police operations chief who spent about five hours with the BNI was to have been charged with an offence similar to that of Kwabena Amaning and three others (Alhaji Issah Abass, Kwabena Acheampong and Alhaji Moro), who were part of the now famous tape recording.
The Woode committee had indicated in its report that it found substantial evidence to show that instead of protecting national interest and fighting crime, ACP Kofi Boakye and the four persons mentioned above rather sought to promote their own agenda for financial reward. It also concluded the ACP Boakye and the four others in pursuance of their common goal connived to find the owners of the cocaine missing from the MV Benjamin.
At his press conference in September, the Interior Minister announced further that the Committee's finding from the recorded meeting that ACP Kofi Boakye's specific role was to "stay in the background and sort out" the Columbians, should they prove naughty.
"The Committee found that in the presence of ACP Kofi Boakye, Tagor and Alhaji Issah Abbas confessed to past drug related transactions that they had engaged in and the unlawful gains they had made out of these deals" he added.
But the proposed prosecution of the police chief has now fizzled out, confirming widely held views that there was no way ACP Kofi Boakye could be prosecuted, both based on the evidence available and because other vital and sensitive information ought to be protected.
Lawyers for the embattled ACP had in the aftermath of the Committee's decisions argued strongly in an interview with the Chronicle that "if Kofi Boakye is to be prosecuted, then the tone would be set for an unprecedented legal battle in this country because in that case, we would be expected to do what we have to do as lawyers and that will be to defend our client with whatever evidence we have."
Lead counsel Joe Aboagye Debrah had stated further that "the Committee's recommendation has no basis and so there is no basis for any charges against Kofi Boakye, since those charges cannot stand in court."
Mr. Boakye who is known for his bravery and feared by hardened criminals has meanwhile returned to the Ghana Law School, where he hopes to add a law degree to his academic qualifications.
A source close to him has however indicated to the dailyEXPRESS that their man will be watching developments closely because "at this point the government and the Attorney General cannot be fully trusted."