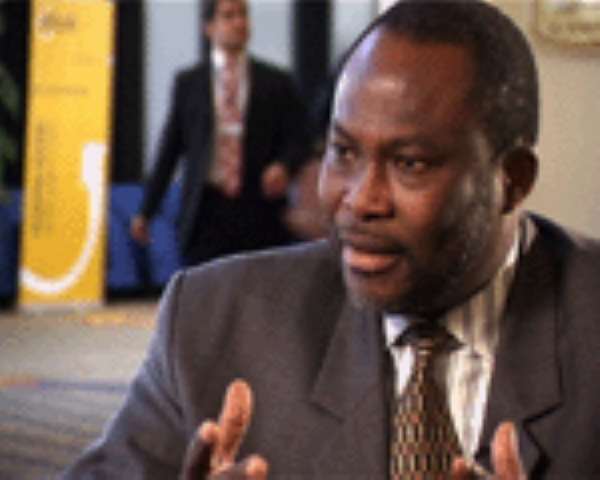 Mr. Ekwow Spio Garbrah has lamented that it 'is unfortunate in the NDC is that if some of the prominent private press begins to write something that is somewhat favorable about any NDC member they say there is something wrong'.
The media guru stated that no NDC flag bearer could win election in Ghana if that flag bearer antagonized the major private media in the country.
Appreciating the media as a two edged sword Dr Spio-Garbrah quipped, "They will write something bad about you sometimes and hopefully they will write something good sometimes."
Dr. Spio-Garbrah stressed the need for NDC to choose a new dynamic person with the combination of experiences, exposure, and education and actively involved in the party's activities to understand the party's needs in order to strengthen it.
He added that the party needed somebody who was capable of raising resources and logistics that the party needed and the skill to forge alliances with other individuals in the other parties.
He was of the view that since the NDC was choosing its presidential candidate before the New Patriotic Party (NPP), the delegates must select a candidate who was mostly likely to successfully challenge anybody the NPP might choose.
The presidential aspirant confidently believed the delegates had understood clearly that even though it had been other candidates in the past, "it is now Spio-Garbrah's time" and that they wanted the NDC to select a candidate who would appeal to the widest segment of the Ghanaian society, especially the swing voters.
He then dared any media organization or journalists who have concrete evidence on the allegations that he had insulted Prof John Evans Atta Mills, another contestant for the NDC flag bearership to prove it.
He was addressing the media at Bolgatanga as part of his national campaign tour when he categorically denied ever insulting any of his contestant particularly Prof Mills through any medium.
"It is quite clear that people are creating and manufacturing statements and deliberately attributing them to me", he said, challenging that "nobody can get any tape of my voice and I dare any media organization or journalist who has heard me call Prof Mills, who is actually my friend names, I have never used such words on any of my contestants."
He said most of those statements were manufactured by people who hoped that by creating the impression that he had been calling somebody names or insulting somebody that person could get sympathy votes without considering whether that person could deliver the NDC from the losses it had made.
He emphasized that it was important for the NDC to develop better relationship with the media and promised that with his personal and professional orientation for developing good and strong media relations, the NDC would enjoy good media rapport in his time as a presidential candidate of the party.