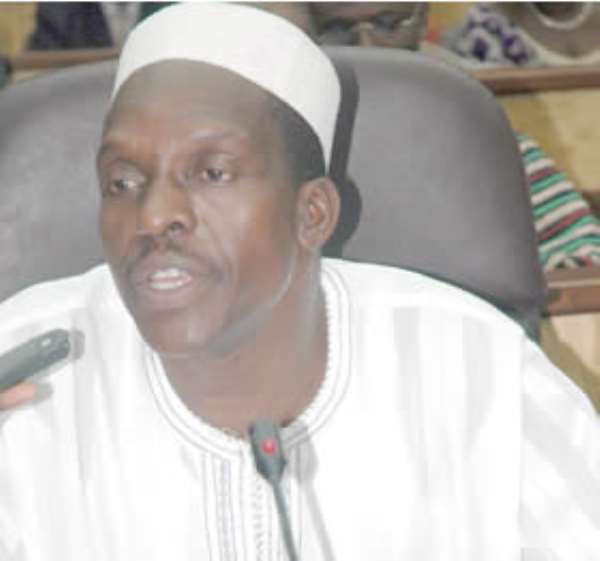 The Minority Leader in Parliament, Hon. Alban Bagbin, has strongly criticised the manner in which personnel of the Ghana Police Service handle Members of Parliament (MPs) who get involved in police cases. He said, "A Member of Parliament is not above the law, but there are a procedure and a clear framework on how to deal with an MP who breaches the law."
Hon. Bagbin, also the Member of Parliament (MP) For Nadowli West, raised this concern on the floor of Parliament yesterday, with reference to how the police had handled the case involving the MP for Sene, Hon. Felix Twumasi-Appiah at the weekend.
The MP was alleged to have defrauded one Charles Dedjoe, a businessman to the tune of $800,000, by selling fake gold dust to him.
Hon. Bagbin said as a result of the privileges MPs enjoyed, there were laid-down procedures, and that the police should respect the procedure when arresting a Member. He said the security agents, especially the police, did not accord MPs the due respect and "we cannot and will not allow this to go on, especially when the case is a civil and not a criminal one".
According to the Minority Leader, "the police is a service and not a force and that they are to serve the people of Ghana and not force the people of Ghana". The Majority Leader, Hon. Felix Owusu-Adjapong, suggested that the matter be referred to the Privileges Committee for redress.
Earlier, the MP for Ahafo Ano South, Hon. Stephen Balado Manu, had expressed his dissatisfaction with an article written by Nana Oye Lithur, an Accra-based legal practitioner and gender activist. The publication, which was in yesterday's issue of the Daily Graphic, according to the MP, had misrepresented him in the eyes of the public. He said Nana Oye Lithur's write-up created the impression that he, Balado Manu, was against the passage of the Domestic Violence Bill.
"I have been seriously misrepresented here and I recommend that day's hansard (the official publication of Parliament) to the author and hope that the necessary correction will be made."
In response, Hon. Bagbin told Hon. Balado Manu that he should not have raised the matter once again, since it had earlier been referred to the leadership of the House. The House later started debate on next year's budget statement presented to the House by the Minister of Finance, two weeks ago.
While punching some holes into the budget, the Ranking Member on the Finance and MP for Lawra Nandom, Dr. Ben Kunbuor said, "We can decide to dress this budget in a rug or in the imposing garment of a king. But let us remember that similar debates of this budget will be taking place in chop bars, trotros and under mango trees."