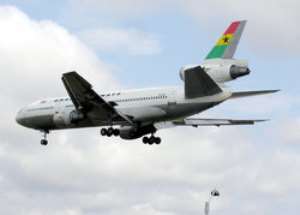 A senior citizen and former worker of the defunct national airline, Ghana Airways, who is facing imminent eviction, says he has nowhere to go than to embrace death wholeheartedly in the hands of liquidators.
Joseph Yaw Nani who is well into his 60s told Joy News ahead of a planned eviction exercise on Saturday that death, if it be reward enough for rendering 40 years of service to Ghana Airways, will be most welcome.
Starting Saturday morning a task force with the responsibility to evict scores of former employees of the defunct national carrier will be locking up Ghana Airways properties in a number of suburbs in the capital including the Airport Residential Area, Castle Road at Ridge, Dansoman, Kisseiman and Roman Ridge.
The Registrar General, official liquidator plans to sell off the properties to pay off the defunct carrier's debts and severance packages for former employees.
The exercise by the liquidator which was first published some three weeks ago and should have taken place on the 11th of November was postponed to allow the occupants of the flats some time to move out.
The two weeks grace period will elapse on Saturday. Some of the occupants have already left while others are doing so reluctantly, explaining that even though they have no option, they had hoped to be allowed to at least celebrate their last Christmas in the homes they have known for many yuletides.
The few who seem willing to go say they have no alternative accommodation, claiming that accommodation was either hard to come by or beyond their means.
But many others at the Airport Residential area who said they have virtually nowhere else to go with their families, are bracing up for the worst. The group includes Joseph Nani.
"In my case the company has got to send you to where you come from with your belongings to the tune of ten tonnes. I went to Ghana Airways and told the then Human Resource Manager. He asked me to hang round and he never came back to me and since then I have been sitting here. I have no money to carry my things to my hometown Peki".
Asked what he intends to do when the task force arrives on Saturday, Nani said they could do as they pleased with him.
"Let them kill me, I am ready for death. If I should work for about 40 years and that will be the sort of punishment I get, fine I like it. Let them kill me."
But while Nani may have resigned his life to fate, there are others who were not taking matters lying low. They would not say exactly what form their resistance to the exercise would take, though they insisted they would not move.
According to the former employees, the whole exercise flew in the face of the law and could not be justified even on moral grounds. One of them who volunteered some comments also referred to a stay of execution filed on their behalf by their lawyers which was yet to be heard by the courts and cited certain obligations due them from their former employers which were also yet to be met.
"First our severance will have to be paid, the outstanding leave will have to be converted to cash and any other arrears that Ghana Airways owes us will have to be settled. I believe we are all law abiding citizens so we just have to wait patiently until the court rules on it and I heard the court is going to sit on the case on the 18th of December."
In the meantime he said; "I don't have any place to go and I don't have the resources to go and rent a premise anywhere so until I'm given something to go out or if the court says that 'no you can no longer stay here' then that is it. I will move. But if they come to forcibly evict us we shall also forcibly stay. I'm ready for the showdown and damn the consequences."