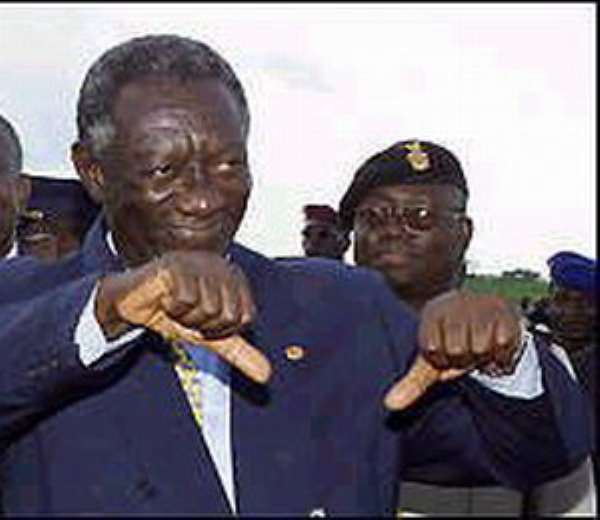 Reports reaching the political desk of this paper indicate that President John Agyekum Kufuor, has taken a swipe at some of his cabinet Ministers who are overtly and covertly campaigning to succeed him by accusing him the (president) as being the bane of the party's problem. Mr. Kufuor who also took serious reservations with one of the aspiring candidates dared the cabinet ministers to prove to the party member's programmes and policies that they have proposed to revive the hopes and whip up enthusiasm of the party members of which he the president had rejected or opposed.
He urged the party executives to challenge those aspirants are accusing him to tell them what they have done. "They are still cabinet ministers and we take decisions together. When they come to you, ask them about what they have done for the party. What programmes and policies that they have brought to me and I have refused," he fumed.
President Kufuor made this observation last Sunday at Maple Leaf Hotel at Achimota in Accra to round off a three-day strategic review workshop organized by the NPP.
Not enthused by some actions of those canvassing to succeed him, he attacked one of the aspirants (obviously he was referring to Kwabena Agyapong, his former press secretary) for going to the Volta Region and telling the party delegates that he (Kwabena) has been advising the president but he refused to take it.
Speaking in twi, to the party members, he said, "Saa akoa noa, o'nenam ewo Volta region eekeka see, we tumi fo saa mentie …saa akoa no mimpe se meka ne ho asem, efri sei maboa no paa, nti megyae nasem amano," literally meaning "that person who is going round in the Volta region telling them that he advised me but I didn't take it, I don't want to say anything about him. This is because I have helped him very much hence I will leave him," he said.
He continued to admonish the party executives present at the workshop that, "it is now the time for you to ask them about how many times they came to me with a proposal and I declined," and stressed further on the need for the delegates and the party gurus to subject the aspirants to a proper scrutiny about what they have done to the progress of the party since they became cabinet Ministers and are now wanting to lead the party.
According President Kufuor, it was unfortunate that the aspirants are professing to be the apostles that have the party at heart rather than him. "Nobody in the party apart from Mr. C.T Dedem, a member of the council of elders of our great party and a few others, can claim they have the party's interest than I do."
Contrary to the perceptions that Mr. Kwadwo Mpianim, Minister of Presidential Affairs and Chief of Staff that he wields more power, Mr. Kufuor stated other wise. "He has no powers as others are saying." The Minister corroborated this assertion when he led the discussion on government and party relations.
President Kufuor cautioned the aspirants in the presence of Hon. Hackman Owusu-Agyemang, Minister of Water Resource, Works and Housing, an aspirant, Hon. Felix Kwasi Owusu-Adjepong, Majority Leader and Minister of Parliamentary Affairs, an aspirants, Mr. Dan Kweku Botwe, former general secretary, also an aspirant and a host of others, our intelligence gathered.
Mr. Mpianim, who most party faithful regard as the 'most powerful' person next to President deflated the reports and said, "I have no power," and dismissed the assertions that he was the bane of the party.
According to party insiders at the workshop, Mr. Mpianim recounted frustration of party members when they want to meet ministers and District Chief Executives.
He cautioned the ministers and DCEs to make themselves available to the party members and not to provide a platform for them to continue to grumble, which he underscored, was not good for the fortunes of the party.