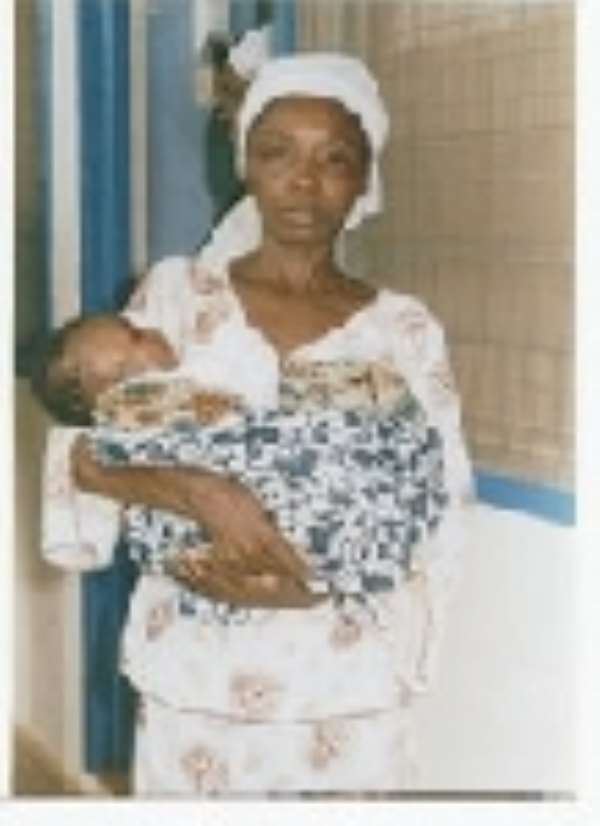 A 35-year-old nursing mother has been released from the Sunyani Central Prisons, thanks to the Brong-Ahafo Regional office of the Commission on Human Rights and Administrative Justice (CHRAJ).
Yaa Amponsah, sentenced to six months imprisonment in September while in an advanced stage of pregnancy, gave birth to a baby boy in her third week in prison.
Amponsah, a cocoa farmer, had defaulted in paying a fine of ¢2 million imposed on her by a magistrates' court at Goaso. She had been found guilty of causing harm by pouring a cup of hot water on a woman who had hit her on the face with a cup during a quarrel at Ayomsa Berekum, in the Asunafo district.
Her plight came to light when CHRAJ personnel, led by the Regional Director, Halima Nuhu, visited the Sunyani prisons as part of a tour of prison facilities in the region.
Mrs. Nuhu criticised the court for overlooking the provisions of the Criminal Procedure Code pertaining to pregnant women.
The code stipulates that "anytime a woman is convicted of an offence the court should order that she be tested of a pregnancy, unless the court has reasons to believe that she is in her menopause."
Mrs. Nuhu said the magistrate should have taken into consideration the advanced stage of the woman's pregnancy and even deferred the sentence.
Speaking to the Times after her release, Amponsah expressed gratitude to CHRAJ and said she would now be able to work and take good care of her baby.