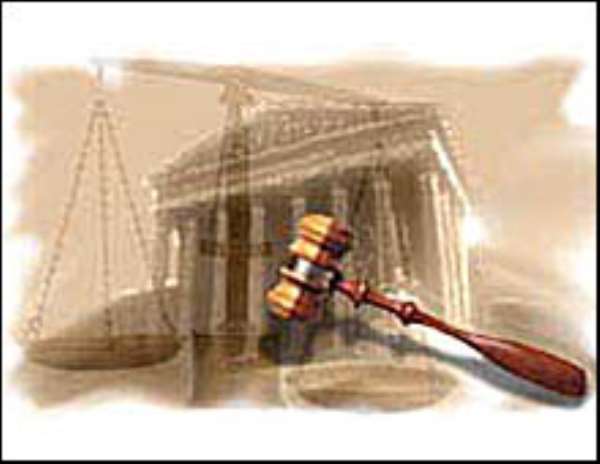 The Managing Director of the Ghanaian Observer newspaper, Mr. Egbert Faibille has sued Mr. Peter Kojo Apisawu, Ato Kwamina Pratt, Ken Klevor, Kwesi Pratt Jnr and Militant Publication Limited for defamation.
On November 13, 2006, Kwesi Pratt and the other defendants published an article titled "EXPOSED& Bartels blows state funds on part friends and journalists&over 36 billion cedis so far spent on them."
In the article, the defendants alleged that state funds had been used to pay for the private telephone calls and broadband internet access of Mr. Faibille and others. The article also alleged that Mr. Faibilee is a praise-singer, front-journalist for the government and is being held out as a government official.
In a writ issued by Kwame Aduabeng Yankyera of Simran Chambers, Mr. Faibille is demanding an order of retraction and apology for the said publication with equal prominence as the impugned publication. He is also demanding an order restraining the defendants from publishing similar or other defamatory statements or stories about him. Though Mr. Faibilee is demanding costs, the amount was not contained in the writ.
The particulars of the writ are as follows:
(a) The defendants willfully and recklessly published the words and statements against the plaintiff, they would have found to be false, but had neglected to do so, not caring whether they were true or false.
(b) The 1st, 2nd, and 3rd Defendants by the professional ethics of their calling as journalist, were bound to cross-check their information with the plaintiff and /or the Honourable Minister of Information before proceeding to publish same to the public but they failed, refused or neglected to do same;
(c) The Defendants published the article boldly on the front, 3rd and 7th pages of their newspaper alongside a large picture of the plaintiff with the sole aim of disparaging and ridiculing the plaintiff and lowering him in the estimation of other persons in society. No date has been fixed for the hearing.