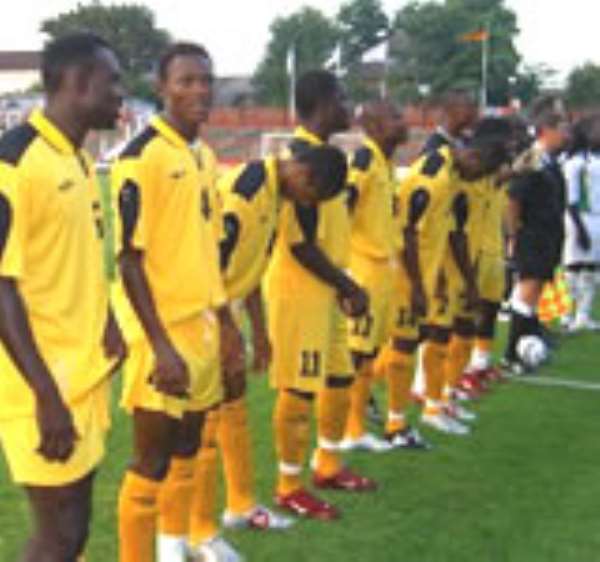 Dr Nyaho Nyaho-Tamakloe, Ghana's Ambassador to Serbia has underscored the need for the senior national team, the Black Stars to engage world-class opponents to prove that their performance at the Germany World Cup was no fluke.
He told the GNA Sports, "Playing against team's like Brazil, England, Argentina or Czech Republic will automatically soar our ranking and boast the confidence of the team."
Ghana has dropped four places on the FIFA Coca Cola World Ranking for November and the former Chairman of the Ghana Football Association (GFA) believes the sure way to keep the ascendancy the team made after the Mundial is playing 'worthy' opponents.
The Ambassador to Serbia believes one other way to keep the momentum of the Stars is by instilling discipline in their operations, whilst encouraging the infusion of young players to the team.
"Most of our players today will obviously not stay in their peak forever and the earlier we introduce some young ones into the team, the better it will be for the future of our game."
Dr Nyaho-Tamakloe, credited for his role in setting up the famous "musical youth" of Accra Hearts of Oak in the late 80s is buoyant the future of Ghana's football belongs to the youth.
He told GNA Sports, "the control of discipline is key to the success of every team." The former GFA capo is advocating a halt in late responses to national calls by players.
"In Europe, players respond to call ups early to have enough time to train ahead of matches and that goes a long way to help the cohesiveness of the team."
Dr. Nyaho-Tamakloe has initiated talks with officials of Partizan Belgrade, a world known football club in Serbia for a possible exchange programme for national teams and clubs of the two countries.