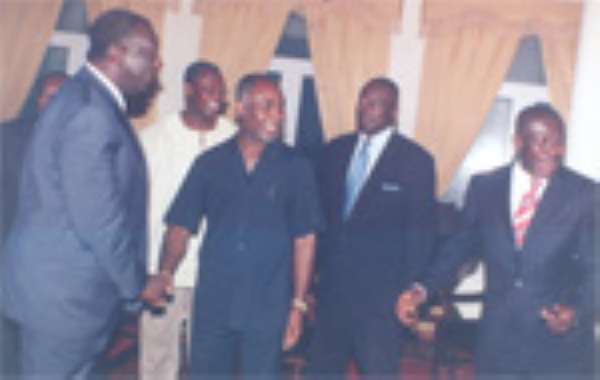 A 32-MEMBER medical team from the Foundation of Orthopaedic and Complex Spine (FOCOS) in the USA, which is currently in the country to provide affordable orthopaedic and spine care to under-served communities, has called on FOCOSat the castle, Osu.
The team, led by Dr. Oheneba Boachie-Adie, a Ghanaian orthopaedic surgeon based in New York, was at the castle to brief the President on its activities in the country.
It enumerated a series of successful operations it had performed in some African countries.
The FOCOS team arrived in Ghana earlier in the month to perform back, spine, hip and knee surgeries.
The founder of FOCOS, Dr. Boachie-Adjei, said, "FOCOS is at a critical crossroads.
There is a high demand for FOCOS services in Ghana, and in order to serve more patients, we must build a state-of-the-art dedicated orthopaedic hospital in Accra," he said, adding, "This hospital will serve Ghanaians and be a model in the West African sub-region, attracting patients from neighbouring countries.
"With cooperation among key private and public stakeholders, as well as fundraising efforts in Ghana and abroad, we believe that this can be accomplished soon."
FOCOS, he said, was committed to improving the lives of Ghanaians, and that it has as its motto, "When life throws you a curve, FOCOS will help straighten it out".
Responding, President Kufuor promised government's support to making the foundation's mission a success and thanked the team on behalf of all its beneficiaries.
The foundation is a non-profit making organization, established in 1998 by the New York-based orthopaedic surgeon to provide a comprehensive and affordable orthopaedic and spine care to under-served communities through its international network of world-class volunteer surgeons and other medical providers.
The medical team of the foundation visits Ghana twice a year, in May and November, to perform orthopaedic surgeries and treat bone disorders, in collaboration with medical personnel in Ghana.
Currently, members of the team perform the surgeries at the Korle-Bu Teaching Hospital.
FOCOS has evaluated thousands of patients from different parts of Africa and performed hundreds of corrective orthopaedic procedures in Ghana for both adults and children.
In 2004, the foundation successfully opened the FOCOS Watson Clinic in Accra, where diagnostics, pre¬operative and post-operative patient care are provided.