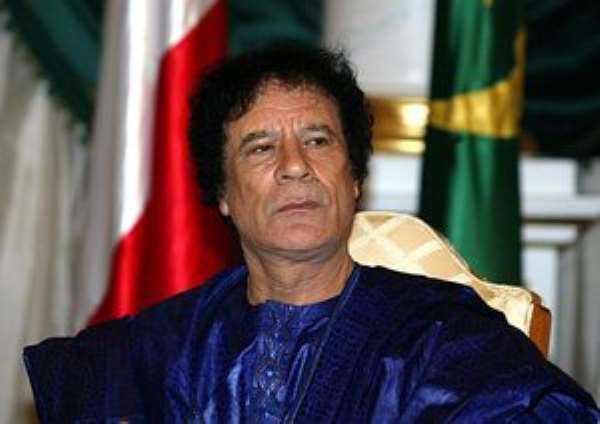 Libyan leader Muammar Gaddafi in Tripoli on Sunday said that Iran has the right to carry out nuclear activities for peaceful purposes.
Gaddafi made the remarks during a meeting with Iranian President Mahmoud Ahmadinejad's special envoy and Deputy Foreign Minister for Arab and African Affairs Mohammad-Reza Baqeri.
The Libyan leader cautioned big powers to stop using double standards on the nuclear issue.
He expressed concerns over the massive propaganda and efforts of the West to prevent the Islamic world from achieving progress and development particularly in the nuclear field.
Praising the "friendly" and "historical" relations between Tehran and Tripoli, he called for further expansion of ties in all areas.
Gaddafi said the Islamic Revolution has had a historical and sustainable impact on all freedom-seeking peoples.
Highlighting the importance of unity and coherence among Islamic states, he called for confrontation of the conspiracies of arrogant powers by the Islamic world.
Baqeri, during the meeting, submitted a message from President Ahmadinejad to Gaddafi expressing his views on regional and international developments and issues of mutual interest as well as the nuclear stand-off.
"The great Iranian nation will never retreat from its achievements in the nuclear field made possible through its brilliant youth," he said.
He stressed the importance of bolstering mutual relations, saying both the Iranian and Libyan nations stand to benefit from a good level of cooperation.
"Iran's industrial and technical capabilities are at the service of the Islamic world in the cause of advancing its scientific and economic goals," the Iranian envoy said.
Pointing to the persistence of enemies in their efforts to cause discord among Islamic states, Baqeri urged leaders of these states to exercise vigilance.
Baqeri, after his meeting with the Libyan leader, left Tripoli for Accra, Ghana.