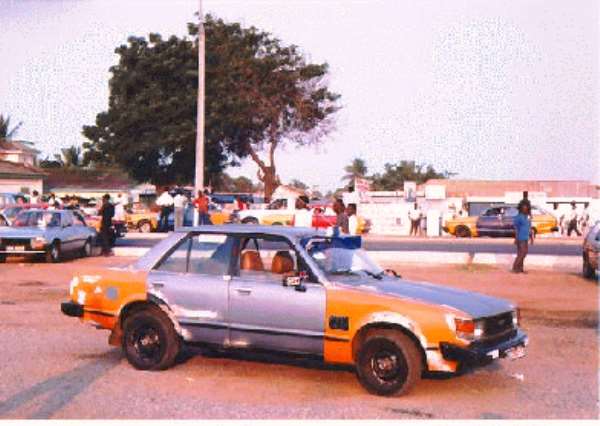 All taxi drivers in the Accra Metropolis will from January 1, 2007 wear sea blue shirts and blue black trousers as uniforms.The decision was taken at a consultative meeting between leaders of the three transport unions and the Accra Metropolitan Assembly in Accra.
The Greater Accra branch of the Ghana Private Road Transport Union was represented by its Chairman, Alhaji E. A Tetteh, the Progressive Transport Owners Association was represented by its Greater Accra Regional Chairman, Mr Amoabeng Peprah, while the President of the Greater Accra branch of the Co-operative Transport Union, Edward Hoffman represented the union.
The uniform for the taxi drivers was selected after careful deliberation by the three unions with the AMA on the weather conditions and the traffic situation in the metropolis.
Another issue which cropped up for discussion at the meeting was the re-testing of drivers' knowledge of areas within the metropolis.
According to the Metropolitan Chief Executive, Stanley Adjiri Blankson, it was important for drivers to be conversant with popular places such as hotels, restaurants, hospitals and schools within the metropolis so that residents and visitors would have value for their money when they chartered cabs.
He noted that currently most taxi drivers did not know a lot of places to satisfy passengers who might depend on the taxi drivers to take them to their destinations.
"Most residents and visitors depend on taxi drivers to take them to places where they do not know. The idea is to make drivers learn", he stressed and added that the testing would be fundamental. Before a taxi driver is issued with an operating permit, he will be taken through re-testing of areas within the metropolis by the Motor Traffic Transport Unit of the Ghana Police Service.
The Commander Officer of the MTTU, Assistant Commissioner of Police (ACP) Victor Tandoh, told the leaders of the various unions to support their members by making available to them copies pf the Accra map to study while they awaited their turn to load passengers at the stations.
He said the testing would help the drivers to reduce travel time and make more money, since they would minimize the time they spent in going round to locate a place for a passenger