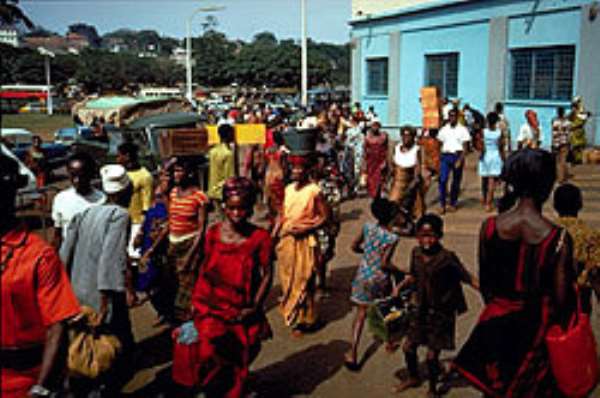 …..Property registration is imperative.
"Trust and integrity are what they have as collateral". A rich man in my village said this, as he was dispensing loans with hands –shake agreement . That was 1979. These days giving out loans on integrity and trust are risky , to say the least. Normal people will not do that—not even with their own family members. Do even not ask me why .Everyone in Ghana has some kind of credibility problem. Their integrity level is zero, zilch !
In a capital –starved society like ours , developments are slow and hard to come by because majority of the people have no collaterals . Unfortunately, banks cannot give loans on trust and integrity This problem is not only found in Ghana .It's common in every developing country . So in 1982, a Peruvian economist, Hernardo de Soto, decided to do something about it. He wrote an influential book called" The Parts" .In it he calls for "a popular capitalism" .In his quest to find solution to poverty, he saw that "there're too much costly absurd regulations that discourage business from seeking legal registration" Does this reminds you of any ministry in Ghana?
Well, he went on to say that " the poor people are completely locked out permanently from the capital pool and the banking system". They are locked out because they lack Legal TITLES to their homes or land. Therefore they cannot use their properties as Collateral .His work shed light on millions of people around the world who have been condemned to unproductive lives of insecurity and poverty. I believe the titles frees up credit and "turns dead capital into live capital(asset)".His approach's ultimate goal is /was to cut the red tapes, that often strangle businesses in developing countries.
However, there's another dimension to this equation. That's having Property title does not always guarantee loan from a bank. Because the house provides shelter and income through rent, sometimes the poor is reluctant to use it as a collateral, in the face of losing it to a bad business. Apart from that, the threat of natural disaster can make the bank reluctant to take a chance on the poor people's properties. Our Judicial system is also not matured enough to support the bank when it comes to the time of seizing the home of a defaulter of a bank's loan. There's also a mistrust of our judicial system from the bank and the people which makes it impossible for it(the judicial system ) to act as an intermediary .
Subsequently, unable to turn their "assets" into capital, the poor people cannot undertake any large-scale business investment. Not only that property titles matter, but studies have found that 'titles' encourage the poor to invest in improving their houses and they are less likely to depend on their children for support.
Property right goes hand in hand with a decent Political and legal systems, a sound economic policies and a very educated citizenry. These tasks fall on the shoulders of the government—especially , in the society where land disputes are part of our delicacy. No amount of loan from the IMF can alleviate our poverty-stricken society , if the poor are left out from the main stream economy .If they cannot turn their assets(houses and land) into capital, they cannot be full participants of a capitalistic economy. But, property registration could change things around.
It's understatement to say that the government could play an important role to make this a reality. The poor people are not asking for a handout, but hand up and a chance to fulfill their dreams and play their meaningful roles. I hope this is not too much to ask from our leaders. A great nation shows it greatness by the way she treats its citizens, especially ,the unfortunate ones. Who is listening?