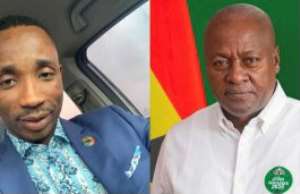 Deputy Director of New Media at the Office of the President, Samuel Bryan Buabeng has alleged that former President John Dramani Mahama has a bad intention if he manages to win the coming 2024 general elections.
He alleged that Mahama will temper with the Constitution to allow him run for a third term in office.
But Mr. Buabeng was optimistic about the one-term former President would be rejected again by Ghanaians.
"Exactly 2 years from today, the good people of Ghana will go to the polls to reject John Dramani Mahama, who is staging a comeback to alter the constitution to enable him run for more than a term like leaders of Rwanda, Congo Republic, Ivory Coast," he alleged in a tweet on Wednesday, December 7.