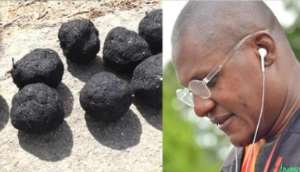 Grass, popularly known in the African circle as a nuisance grass because of its irrelevant, will soon become another raw gold, especially within the African continent.

This is because nuisance grass has become a remedy for the increasing wood fuels which has a more negative impact on our society. According to government statistics, about 80 percent of households in Ghana depend directly on wood fuels (firewood, charcoal, and other biomass) for cooking.
An investigation conducted by Ngamegbulam Chidozie Stephen shows that citizens are moving to wood fuel products such as firewood and charcoal to be specific due to the continuous increase in the price of Liquefied Petroleum Gas (LPG), meaning the lower class of citizens can no longer afford the purchase of LPG.


Charcoal is very essential as far as our cooking activities are concerned but, should we continue to allow the felling of economic trees such as rosewood and shea trees for charcoal production? Especially, if not for anything else, these trees are noted for their contribution to the economy and benefits to citizens themselves.
However, aside from the economic importance of these precious trees, in this era of climate change, the felling of these trees for the production of charcoal posed a massive threat to our environment as a people.

Now the question is, what is the remedy?
To me, the remedy is simply "Grass" which I described as a "Hidden Gold in the Open" a commodity that is accessible to all across the African continent.
In Ghana, Professor David Millar, the President of Miller Institute for Transdisciplinary and Development Studies in his own wisdom has come out with a new innovation that will address most issues ranging from bushfire burning, felling of economic trees, and creating of job opportunities for especially people in the rural area with grass as a commodity.
If not for the intervention of the Ghanaian Professor, no one has thought or dreamed that nuisance grass in today's world could be an essential commodity or source of livelihood for the ordinary African living in that rural community.
Grass briquette Charcoal will surely be a replacement for wood fuels, especially as the information is gradually penetrating across, people will begin to appreciate the kind of opportunities the nuisance grass is bringing on board. When people realized that the stress of felling a tree for charcoal production is huge compared to the less stress used to produce grass charcoal, they will definitely shift their attention towards grass charcoal production. That is a fact, because no one enjoys suffering.
I call on African leaders to embrace this wonderful grass-charcoal innovation by Prof. Millar which has come as a remedy for more employment opportunities for the unemployed, especially in our rural communities across the continent. The Grass-Charcoal innovation to me still remains a "Hidden Gold in the Open".
For publication please kindly contact us on 0256336062 or Email [email protected]