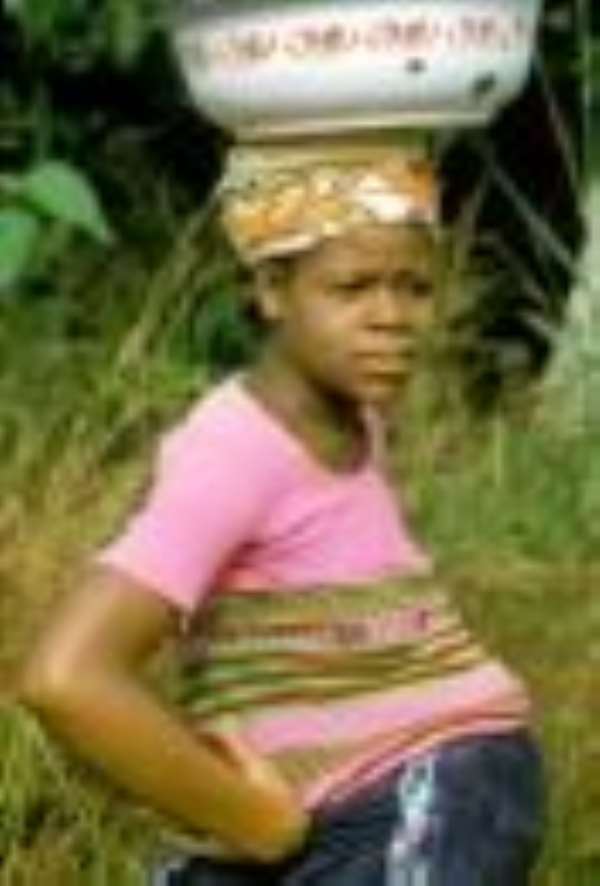 THE Director General of the Ghana Health Service, Professor Agyeman Badu Akosah, has expressed concern about the high rate of teenage pregnancy in the country.
He noted that not less than 15 per cent of females who get pregnant annually are teenagers below the legal sex age of 16.
Most of the pregnant girls, he noted are dismissed from school because of their situation without the school authorities even enquiring who put them in the family way.
The GHS Director-General was speaking at the third in the series of lectures to mark the 45th anniversary of the Ghana Institute of Management and Public Administration (GIMPA) organised in Accra, on Thursday, under the general theme, "Ghana: Socio-Cultural Development."
Speaking on the topic, "Health and Education," Professor Akosah said for any country to enjoy good health, its citizens should have access to good drinking water, well ventilated houses, good roads, good environmental sanitation and better nutrition.
He expressed regret that most of these basic benchmarks of health were lacking in the country and some of the basic hygienic practices were not being adhered to even by people who were aware of them.
Prof. Akosah advised lactating mothers to exclusively feed their babies with breast milk in order not to compromise the health of the babies.
He said this was important because one out of every 15 infants died before age one and 11 per cent did not reach the age of five years.
Most of these deaths he said were due to malnutrition and in some cases bad cultural practices, adding that unfortunately in certain areas of the country, pregnant women who needed proteins most, were prevented from eating them and this had adverse effects on the health of their babies.
Prof. Akosah also spoke about the disparity between the quality of education in the urban and rural areas, noting although those in the urban areas enjoyed better education, all pupils in the country wrote the same examinations.
Another speaker, Professor George Hagan, Chairman of the National Commission on Culture, called for the introduction of the country's cultural values into the eight points set up in the Millennium Development Goals, saying most of the goals might not be achieved because they lack cultural inputs.
He asked people to disabuse their minds of the notion that the culture of Ghana is merely about singing and druamming.