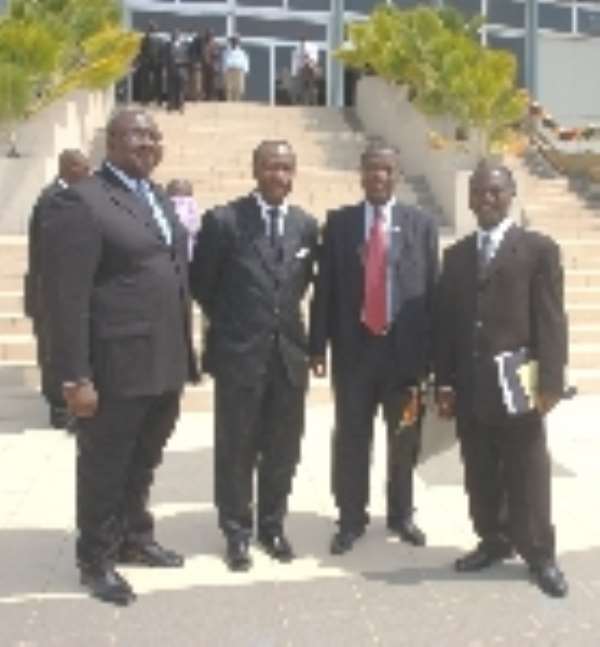 Mr. Kwadwo Baah-Wiredu, Minister of Finance and Economic Planning said on Friday that a lot remained to be done in the financial management of the economy due to the numerous problems created as a result of distortions in income policies.
He said income policies over the years had created a lot of distortions in the pay structure and that it was time to correct it once and for all as highlighted in the 2007 budget statement.
Speaking to regional and district information officers at a sensitisation workshop on the 2007 budget, Mr Baah-Wiredu said the major problem in the salary structure was that of the health sector as against the other sectors.
"For instance, a Community Health Nurse with few years of experience receiving more salary than a Headmaster with long years of experience will definitely create apathy towards service delivery."
He said government had allocated 13.2 trillion cedis for wages as against 11.2 trillion last year to bring workers into their salary positions.
He said the Fair Wages Commission established
by government, which had its technical section already working, would ensure that all the anomalies were corrected so that workers received equal pay for work of equal worth from 2007 to 2015.
Mr. Baah-Wiredu said currently 60 per cent of
the country's revenue went into wages and salary administration, gratuity and social security yet workers were not receiving the adequate salary for their work.
He said the Fair Wages Commission, which would contract workers rather than employ on permanent basis unless market conditions dictated otherwise, would help remove the distortion and ghost names and ensure that wages go with productivity.
The Minister said the Controller and Accountant General's Department had done a realignment to ensure that pensioners were also paid at the district levels instead of coming to Accra to receive their gratuity.
Dr Sam Mensah, Financial Advisor, Finance and Economic Planning Ministry said Ghana completed its 23-year contract with the International Monetary Fund (IMF) on poverty reduction on October 21, this year adding that she would now borrow directly from the international market to get more funds for projects.
He said the disadvantages with the IMF was that it was difficult to get money in one whole, making it difficult for major investments like dams, in addition to the slow processing and disbursement and the conditions involved.
He said Ghana would however maintain her membership of the IMF and seek for advice on some of her policies.
Mr Kwamena Bartels, Minister of Information and National Orientation said the Ministry had received a mandate to employ about 683 workers, five from each district to take care of the 160 cinema vans of the Information Services Department starting January 1, next year.
He urged the officers to ensure that the vans were used to educate the public on government policies through the dissemination of factual information.