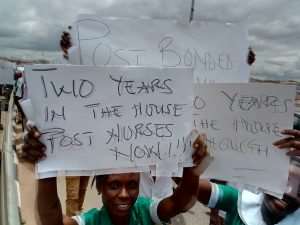 Good Warm morning Mr. Anonymous writer who turns to call yourself AdnanAdams. Such a position you took on the subject matter gives me all reasonable doubt that it is just attention you seek. But for the sake of the readers who used their precious time to read your vacuous statement, I will love to school and do my possible best to separate you from your
baldachin of grandiosity.
For your allegation of some nurses did not pass their WASSCE. Nursing is a noble profession as you admitted in your disappointing letter. For purpose of education, Nursing and Midwifery is being governed by a council which is a statutory body created by the Health Professions Regulatory Bodies Act 2013 (Act 857) this same act created the medical and dental council, and for that matter, there is a requirement to become A Nurse which has always been upheld by the Council. (Unless you can prove otherwise ) Without such a requirement, you will not be indexed as a student Nurse. Unless your supposed wife who is a Staff Nurse is the only one who failed her WASSCE. Kindly ask her if indeed she is a Nurse.
I am a nurse and a proud one I have a BSc.General Nursing, EMBA in leadership and management, PDGE and currently pursuing Law and recently gained admission to read an MPhil program. So are my other colleagues. We pride ourselves as nurses with brilliant minds such as prof. Aziato, Vice Chancellor UHAS, Dr. Mrs. Christiana Asiedu Dean Department of Reproductive and Adult Health UCC, Dr. Angela Acheampong Dean School of Nursing and so many other sharp minds. I dare you to bring our qualifications.
"My wife is a Staff Nurse". Let's assume it is True without admitting it, will you be writing such a disenchanting letter if such abuse was showered on your wife at her workplace by a man who has no respect for a human to use such words on your wife, will you have applauded the GRNMA if they took a taciturn position if it was your wife in that position? You are just a self cantered hypocrite, I
"My wife is a nurse", I suppose the Disrespectful Nurse you speak about bitterly is your Wife and no other Nurse, it is not the Fault of GRNMA that she is disrespectful to you nor is it the fault of The council that she does not Uphold her professional conduct. If indeed she is a trained Nurse, then I am sorry she needs some form of a Refresher Course, assist her to get help else she will be sued by her patients in no time.
The Doctors and physician Assistants being better than us is a non-starter. We are Nurses and they are what they are we are a team of Health professionals we are by no means competing with them. They do what they do best we also do what we do to ensure our Patients recover well. We as Nurses bring the gentle touch to make the care delivery whole (we Ice the cake: I hope you understand this)
I am sure you are indeed bitter as a human because of reasons best known to you. But did you ascertain the details of the genesis of the issues at hand at menhyia hospital, a Nurse was trying to advocate for her Patient and she was reduced to zero by a Man who thinks like you.
You were quick to speak about the twerk of nurses. On a lighter note, you enjoy it right ? Well, the nurses are Lovely [smiles] and they twerk on their private days, not on duty. How are they liable explain to me I don't get it.
However, you failed to speak about nurses who lose their lives in the line of duty. Have you forgotten about the Nurse who was Murdered after her return from an immunization trip, Have you forgotten the Male nurse who drowned in the northern region as he was crossing a river to render service to pregnant women and children, have you forgotten Nurses who died in the Heat of COVID-19 trying to save Ghana, have you forgotten the series of Nurses who had middle pricks should I continue? Only a Mephistopheles will not appreciate these sacrifices
On the part of the Legal action, I wish to say No empty threats will intimidate our Nurses we are more than a united front. If you Don't go to COURT then you got no Balls maybe the only ball you have is a football.
Enjoy your sorry da.
Hakeem Enyan Steve
A Proud Nurse
0540488348