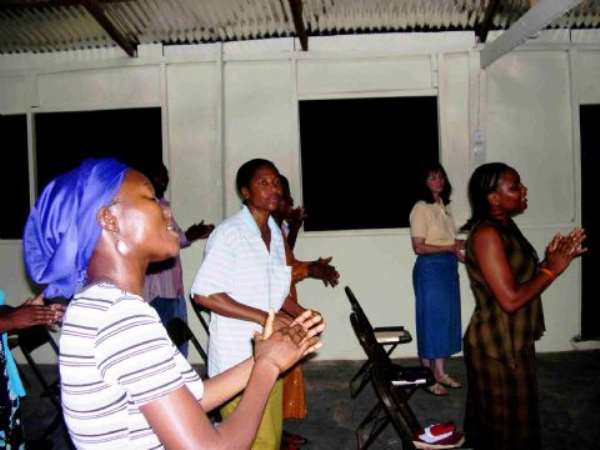 Congregants of the New Jerusalem Chapel, a spiritual church at Ampoyo Sokoban near Kumasi, were gripped with fear when several witches and wizards who stormed the church on Sunday told tales of their nocturnal activities.
The self-confessed witches and wizards, numbering about five, without compulsion, confidently recounted how they had killed people, caused accidents and ruined businesses.
Having confessed to killing several well-to-do members of their families, they were made to take an oath individually, invoking the power of God to strike them dead if they ever returned to the practice of witchcraft.
These wild confessions were made when the church, led by Bishop Prophet J.Y Adu, last Sunday held a special church service to baptise at least 14 people and completely heal them of their diseases.
The witches and wizards were also delivered from their bondage.
Madam Ama Hemah, a native of Mampong Beposo in Ashanti, who confessed to practising witchcraft for over 40 years, left the church members in a state of shock when she confessed to killing several people including two of her own children.
She narrated her experience to the church, in the presence of some family members and in-laws, who had brought her to the place to get the spirit in her exorcised, after she had personally confessed to being a witch.
Out of the seven people she claimed to have killed in her family, under the instruction of the queen in her society, she said she regretted killing her own last born and a grandchild.
Madam Hemah, who assured her family of being a changed person, noted that there was nothing good about being a witch or a wizard.
She appealed to other people in society who possessed the evil spirit to surrender themselves for exorcism.
On her part, Abigail, also known as Afia Wusuaa, a self-confessed witch, said she was brought to the church when she was lured to afflict her aunt, Madam Mercy Oduro, with stroke and eventually kill her.
According to her, witches and wizards in her family had resolved to eliminate Madam Oduro, to teach her a lesson, in view of the fact that she had decided not to give them part of the money her husband had remitted to her.
She confessed to killing her father, the late Mr. Yeboah, and her brother, Kofi Agyei, in order to be crowned the queen of her society.
She thanked God for touching her life and making her a new person, adding that being a witch was worrisome.
The congregants also listened with rapt attention, the testimony of Lilian Agyemang, a JSS 3 student who was rushed to the church when she boldly informed her father that she was a witch.
According to her, the spirit was transferred to her by an aunt, in the form of food, to kill either her mother or father.
Several other people who were possessed got the evil spirits in them exorcised, and those victimised were prayed for and discharged last Sunday after undergoing weeks of intensive prayer sessions and spiritual healing.
Also present at the church were a number of victims of witchcraft who were afflicted with conditions for which medical doctors could not find remedies.
The ailments, considered to be spiritually motivated, including epilepsy, madness and stroke.
Mr. David Yaw Afriyie, former Chief Inspector with the Motors Traffic Unit of the Ghana Police Service, stationed at the Kumasi Central Police station, was one of the victims of witchcraft who received healing and was due to join his family at Duase, near Antoa, Kumasi.
In his testimony, Mr. Afriyie said he was paralysed a couple of months ago under strange circumstances, while on duty directing vehicular movements during one of President Kufuor's visits to Kumasi.
According to him, his health condition had deteriorated despite getting in touch with the best doctors in various hospitals and health centres in the country and beyond.
He said his situation continued to grow worse and he often soiled his dresses with his urine and excreta, until one day a relative directed him to the church, where he was told that his ailment was spiritually induced.
The ex-police officer said pastors of the church corroborated earlier revelations that witches and wizards in his family had afflicted him with the disease to punish him for attempting to rebuild their dilapidated family house at Duase.