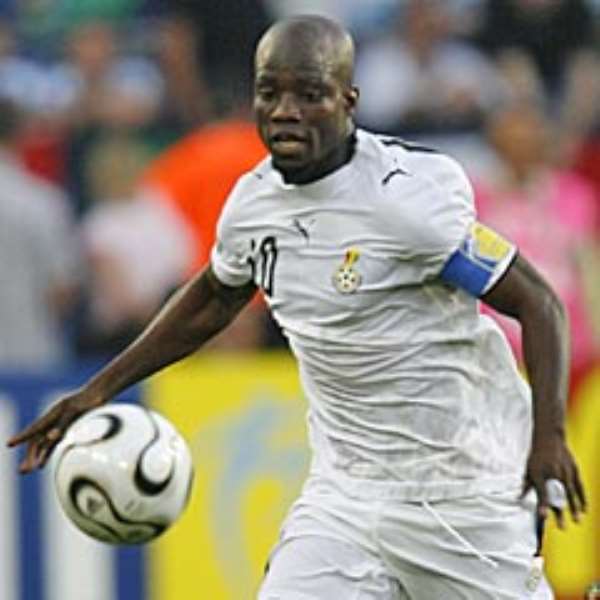 Stephen Appiah made his 50th appearance for the Black Stars last night
Ghana captain Stephen Appiah made a half century of Black Stars appearances after Tuesday's friendly against Australia in London.
The Accra-born midfielder received an award from the Ghana Football Association at half-time of the match against the Socceroos at QPR's Loftus Road stadium.
He made his debut on his 16th birthday against Benin in 1996, and has been a mainstay in the Black Stars'midfield over the last decade.
The 25-year-old led Ghana to a first World Cup appearance in Germany in June, where they reached the second round of the competition.
Appiah has vowed to repay those who kept faith with him through the darkest days of his career and skipper his country for future successes.
"I am happy to be close to reaching this milestone in the great Ghana shirt and I want to thank the people of Ghana for giving me the opportunity to serve my country," Appiah said.
"I owe it to the people of Ghana, my Black Stars team-mates, the FA and not least my family, who have all supported through the hard times in my career.
"In whatever position I find myself I will serve my country and will make sure that we achieve bigger things in future."
His international involvement was also a big factor in the turnaround in his fortunes, he admitted. "I have benefited immensely by playing for my country. Before the World Cup I could comfortably in the streets of Spain and France without people watching.
"But I was in Spain recently and I was mobbed thanks to our participation at the World Cup."