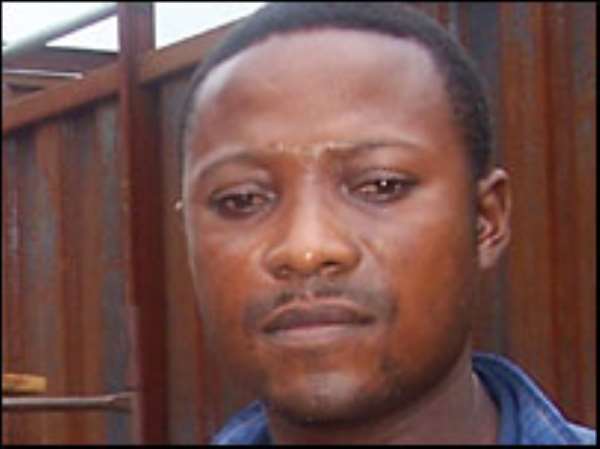 Frank Darko specialises in straightening wrecked vehicles
Ghanaian mechanic Frank Darko boasts that he can make any car.
"I can make any car. Ask me," he said.
A Mercedes Benz?
"I need the engine but the body I can build it. It would take me two or three weeks to complete it, if you bring the engine and chassis," he said.
Few of Mr Darko's customers want Mercedes Benz and few want their cars built from scratch.
But many bring cars, trucks, buses and trailers so badly damaged that in any other country they would be a write-off.
In the hands of Mr Darko and others like him, life is breathed back into hulks of scrap metal and fashioned with heat and hammers into something, well almost new.
Artisans
Mr Darko is a "straighter" - so-called because he can straighten crooked vehicles.
He is one of an estimated 80,000 mechanics, engineers and artisans who work in Suame Magazine, an industrial slum, possibly one of Africa's biggest.
On the outskirts of the Ghana's second city, Kumasi, the Magazine's origins lie in the city's long history of working gold and other metals.
Over time, more and more of these artisans turned their hands to vehicle repairs and engineering, eventually moving to Kumasi's Suame suburb after World War II.
In a continent and a country where buying new can stretch already overburdened pockets, the Magazine's artisans show how far you can get with ingenuity, skill and a few mechanical tools.
Shoppers from afar
The casual shopper in Suame can choose from a wide range of tyres, windscreens, hub caps and vehicle parts.
Abandoned carcasses of vehicles are scattered on the mud and tar streets.
With neighbouring Ivory Coast cut in two by a civil conflict, more and more trucks cross Ghana to get to the landlocked countries of Burkina Faso, Niger and Mali - and the Magazine is their first port of call for repairs.
Mercedes Benz mechanic Kingsley Mensah has been in the business for nearly 30 years.
His customers come from all over Ghana, Burkina Faso and Ivory Coast to buy spare parts and for repairs.
Not far from where he works, Atta Samuel stands within the wrecked frame of a bus.
Two weeks is all he needs to rebuild it and deliver it as new to his customer.
Most of those who work in the Magazine made their way in the trade through its apprenticeship system.
For welder Mohammed Adams, busy making the trailer of a truck, his life in the Magazine began as an apprentice aged 11.
Now 21, he has been a master for five years.
Workshop of broken dreams
More and more of the Ashanti region's unemployed youth are making their way to the city and find work in the city's vast workshop.
Its artisans and engineers once dreamed - and some still do - of government backing to set up a factory in Kumasi, where its numerous craftsmen could work together.
But some Ghanaians do not give the artisans the respect they deserve, assuming products from the Magazine are poorer quality than imports, said George Yaw Obeng, research fellow at the city's Kwame Nkrumah University of Science and Technology.
The craftsmen - many of whom make food processing equipment and other engineering goods - also face tough competition from cheaper imports, he added.
More and more people in the Magazine are selling spare parts as well as doing repairs.
"Fewer people do manufacturing, it does not pay well, they are not able to face competition for products... It is not dying but it is not growing the way we thought it was going to grow," said Mr Obeng.
Creating a factory where all the Magazine's workers could work together is certainly what Frank Darko would like to see.
"We need something like that, we want all the mechanics, straighters, fitters and sprayers, everybody together under one roof."