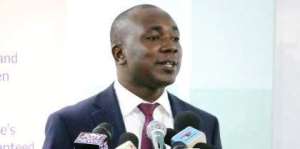 Prof. Godfred Bokpin
An Economist and Professor of Finance at the University of Ghana Business School, Prof. Godfred Bokpin says it is unlikely for Ghana's inflation levels to come down anytime soon.
Over the last few months, inflation in Ghana has hiked and has reached an all-time high of 40.4%.
Due to the high inflation, times have become hard with Ghanaians continuously enduring untold hardships.
Speaking to Joy FM in an interview on Wednesday, November 30, Prof. Godfred Bokpin projected that inflation will continue going up until the end of the first quarter of 2023.
"The inflation will remain elevated to the end of the first quarter 2023," Prof. Godfred Bokpin said.
The Professor of Finance at UGBS added, "The government itself is saying they won't recruit in 2023, the private sector doesn't recruit as a favour.
"We are creating a financially repressed society."
As a result of the high inflation, the Bank of Ghana on Monday increased the monetary policy rate by 250 basis points.
This has pegged the monetary policy rate at 27%.
A team from the International Monetary Fund (IMF) is in Ghana to bring finality to the ongoing negotiations for the much-awaited support programme to help stabilise the economy and set it on a path of recovery.