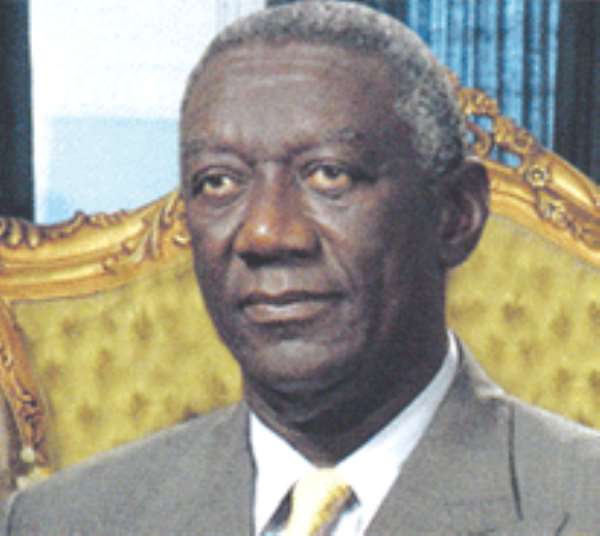 Dr Nii Moi Thompson, a well respected Economist, has added his voice to the call on President Kufuor to stop deceiving the world about the performance of the Ghanaian economy.
Dr Thompson specifically took issues with President Kufuor's recent clams in Beijing that remittances from Ghanaians in the diaspora will be reaching an unprecedented high of $8 billion dollars by the close of the year 2006.
Dr Thompsom made the above submissions on a local radio station in Accra last Saturday.
He expressed shock that the President would go about making such disingenuous claims, when the Central Bank's figures corroborated by the World Bank and available on the world wide web indicates that as at August, remittances into the country from Ghanaians abroad stood at only $900 million.
Dr Thompson stated that the $8 billion the President spoke about represents the nation's GDP as a whole. He wondered whether the President gets proper briefings before making pronouncements that are increasingly embarrassing not only the presidency, but the nation as a whole.
Nii Moi Thompson recalled that some time back, President Kufuor equally misled the world, when he claimed that Ghana's Per Capita Income was $600.
Dr Thompson also used the opportunity to dispel as false claims that $400 million was the highest figure in remittances, during the tenure of the National Democratic Congress (NDC). He explained that the $400 million represented the net figure after outflows were deducted from the total inflows.
Another panellist, Kweku Sintim Misa, wondered why the New Patriotic Party (NPP) government would be so jubilant over a paltry amount of $587 million of Milliniuem Challenge Account (MCA) money spread over years, when according to the President, the nation is due to net a whooping $8 billion dollars from Ghanaians resident abroad.