Why this woman abandoned her baby for 15 hours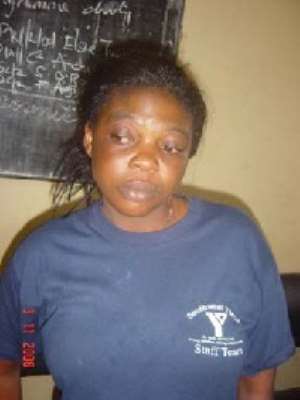 A 24-year-old female prostitute left her three-month-old baby locked up in her room without food or drink for 15 hours whilst she went out to solicit for business, Police have said.
Ama Vida Ardeson is a "known" prostitute, according to Samuel Adane Nyamekye, the Assistant Superintendent of Police in charge of the La Police Station, whose arrest at Danquah Circle late last Friday night was the third arrest for the same offence.
She was released on bail because of the baby, but will face charges of prostitution and neglect of infant.
A court will decide the fate of the baby - and whether its mother should be forced to relinquish custody, for it to be sent to a children's home.
According to Mr Adane Nyamekye, Ms Ardeson was arrested between 11 and 12pm on Friday November 3, having nursed her child before she left. The baby was left asleep and alone, in her house at Mile 7, a suburb of Accra.
The accused prostitute was locked up in a cell at La Police Station. Somewhere between 2am and 3am, when Mr Adane Nyamekye returned to the station after making more arrests, Ms Ardeson mentioned that she had a small child left alone in the house. "But I didn"t believe her," the ASP told The Saturday Statesman yesterday.
"I thought it was a modus operandi to get me to release her… I didn't believe the girl, because I don't think that any normal human being would actually lock up their baby in a room and leave, for so many hours like that."
When the police got to her house between 8am and 9am the following morning, Ms Ardeson's tale turned out to be true – as her baby, abandoned since the previous evening, remained locked up in the room.
Mr Adane Nyamekye expressed disbelief at what he found. "I don't think she's a mother," he told The Saturday Statesman. "She has a dizzy, immoral attitude."
"This is what is happening in Ghana," he went on. "When they give birth, they don't know what to do. Initially, this girl told me stories –when I asked her, 'where is the baby's father?' she told me that the father died in an accident, and that is why she is outside soliciting for sex."
He suggested that in many such cases, the woman has actually run away from her husband, or else she is unsure of who the father is.
"When I asked her [what she was doing], she told me that her baby was sick – and that she left the house to go and buy some medicine."
Ms Ardeson had told the ASP that she lived in Adenta (and not Mile 7, where she really resides) and had been unable to find any medicine or her journey into town.
When our reporters approached Ms Ardeson, her story was the same.
Asked whether or not she was a prostitute, she said: "I am not a prostitute, I went out to buy medicine for my baby who is seriously sick of tomatoes – only to be arrested by the police."
Ms Ardeson, a soap seller who resides at Dome Mile 7, claimed to have locked her three-month-old baby in her room at about 10pm on Friday to buy Seven Seas Cod Liver Oil and M & B medicine because her child was suffering from severe heat rushes.
According to the ASP, she may actually have left earlier than this, in the evening.
She claimed that she had to go to Osu that night in search of the medicine because all the drug stores in her area had closed at that time.
When asked why she did not take the child along, Ms Ardeson said she did not want to send her baby to town that late – adding that since the father of the baby had died a month after she was pregnant, she had no choice but to lock up the baby in the room since she lives alone.
Later, however, her story changed: back at the police station, Ms Ardeson told her brothers who had to take her home on bail that she did not go to engage in prostitution but rather went out that night to the father of her child for money for their up-keep.
Her brothers reprimanded her for not heeding their advice to cease from prostitution, suggesting that they were aware of the fact that their sister was a prostitute.
After persistent questioning the culprit confessed to The Saturday Statesman that she was a prostitute saying, "I have not been in the trade for long". She however refused to say why she is practicing prostitution.
Meanwhile, she has been granted police enquiry bail whilst investigations continue.
Her case raises a number of pertinent questions about the standard of social care in Ghana, and the synergy between the Police service and social services. Asked whether such a relationship exists, and whether it is effective, ASP Adane Nyamekye said that the Police have a counseling department within the Service, a project which is "in its infant stages." Sometimes, cases are referred to this internal mechanism, he said.
In the case of Ms Ardeson, however: "I personally have inferred that it [prostitution] is a habit," the ASP said, "and have recommended that the case be decided by the court… I think this time round she should be fined heavily."
Whilst her punishment might be forthcoming, the questions of why the offender has chosen to enter prostitution, what support there will be for her now and what will become of her child, are far less clear.