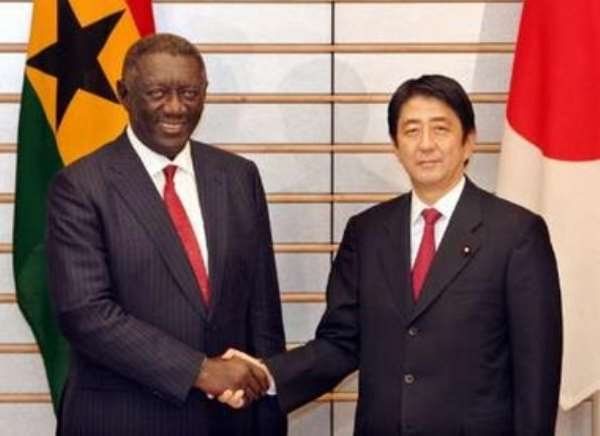 The Japanese Government has decided to double its development assistance to Ghana within the next three years in appreciation of its sound management of the economy, good governance and the rule of law.
Consequently, it has asked Ghana to submit technical details on its railways system and the energy sector where the assistance is going to be received.
This was the outcome of a meeting between President John Agyekum Kufuor and the Japanese Prime Minister, Mr Shinzo Abe, in Tokyo on Friday.
The two leaders discussed both bilateral and international issues, including the missile launch and nuclear test by North Korea and the reform of the United Nations.
Japanese bilateral aid to Ghana by way of grant aid, technical co-operation and development loans came up to 115.42 million dollars in the year 2004, according to statistics at the Ministry of Foreign Affairs in Japan.
President Kufuor accompanied by the Foreign Minister, Nana Addo-Dankwah Akufo-Addo, the Minister of Energy, Mr Joseph Kofi Adda and some other senior Government officials was in Tokyo for a two-day official state visit.
Mr Abe said his country would additionally help to enhance Ghana's capacity to assist to improve the security situation in Africa. He said the Japan in line with its new development strategy for Africa would now prioritise and limit its Overseas Development Assistance to selected countries in the continent.
The Japanese Prime Minister praised Ghana for its understanding of the security concerns resulting from North Korea's missile launch and nuclear test and its co-operation with his country on those matters.
He invited President Kufuor to attend the Tokyo International Conference for Africa's Development (TICAD) scheduled for 2008 at which, the maiden Nugochi Prize for Research in Medicine and Health would be presented. The award has been instituted in memory of Dr Noguchi, the Japanese scientist, who died in Ghana from the yellow fever disease, incidentally the very disease he was conducting research into. It is restricted to those who research into health and medicine in Africa.
President Kufuor thanked Japan for its assistance to Ghana in the areas of education, rural health, infrastructure, the Small and Medium Enterprises (SMEs), and women empowerment over the years. He requested for further support for road construction, sanitation, waste management, bauxite development, energy and the railways system.
The two leaders agreed to jointly work together to ensure peace globally and in the Asia region in particular. President Kufuor later conferred with the former Japanese Prime Minister, Mr. Junichiro Koizumi.