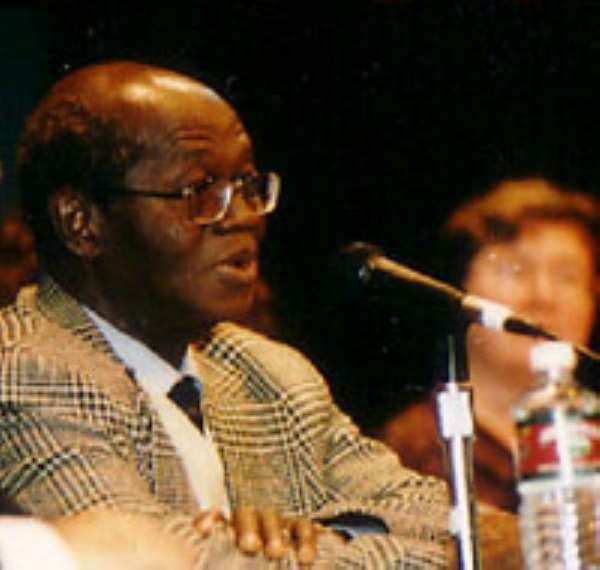 Professor Emeritus J.H Kwabena Nketia, an authority on the Akan language and renowned musicologist, has deplored the lack of restraint in the use of Akan language on radio stations to discuss leaders and national issues.
He said the lack of traditional restraint in the use of the Akan language was misinforming listeners, since it had become difficult to separate allegations and opinions from facts.
Professor Nketia, who delivered a lecture of the theme, "Oral Tradition in a new move; The Shaping of Indigenous Scholarship and Literary Style", said media dialogue on radio stations was, therefore, doing more harm than good.
He explained that radio stations, instead of carrying the oral tradition into new literary forms, were crucifying it on the altar of mediocrity, saying that could have serious repercussions on that body politic in the country.
He therefore called on the authorities at the media houses to employ qualified Akan speaking staff as presenters of local language programmes to bring sanity into broadcasting in that language.
He said apologetic prefaces such as "tafrakye" and "sebe", which were seldom used on radio discussions, were some of the important phrases which could help to assuage offensive language.
He said traditional authorities who had realised the power of oral tradition used them effectively in their dealings with the colonial masters and it was still being used in settling land disputes and various claims.
Professor Nketia said Rev Reindorf, who relied so much on oral tradition to compile his books, was now being sought after because of the importance being attached to oral tradition by modern scholarship.
He said modern scholars had come to realize that without oral tradition, public discourse could not become authentic and original.
The lecture was organised by the Ghana Arts and Sciences and the Akrofi- Christaller Institute for Applied Theology to celebrate the lives of Rev David Asante, Rev Theophilus Opoku and Rev Carl Christian Reindorf, all of the Basel Mission, at Akropong Akuapem
The Rector of the Akrofi-Christaller Institute of Theology, Professor K Bediako, said even though the three contemporary reverend ministers were born in the early part of 19th century when colonialism and traditional beliefs were at cross roads, they were able to discharge their duties effectively by blending new ideas with their traditional beliefs.