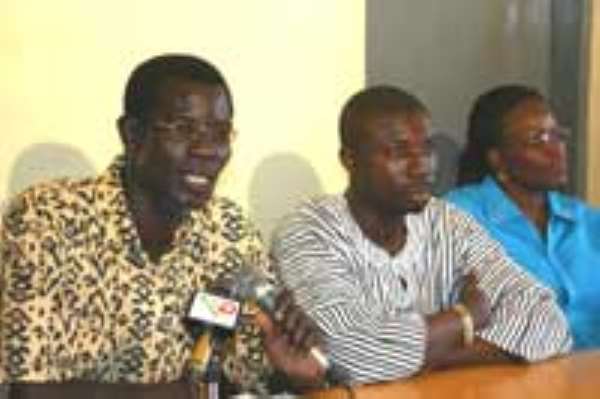 THE leadership of the National Association of Graduate Teachers (NAGRAT), has in compliance with an Accra Fast Track Court's order, asked its members to immediately return to the classroom.
The court, last week, declared NAGRAT's eight-week long strike illegal and ordered them to call it off.
A statement issued yesterday by the national office and signed by Majorie Afenyi, Publicity Officer of NAGRAT said the "court by its said ruling has ordered all NAGRAT members to return to the classroom. We are by this release communicating the ruling of the court to members".
The Times can also confirm that the Ashanti and Eastern regional branches have written to their members to comply accordingly with the court ruling. The letters were signed by Christian Addai-Poku and E.A.Narteh-Yoe, regional chairmen for the respective branches.
Evans Dzikunu, one of the solicitors of NAGRAT, told the Times yesterday that "we have advised our clients to comply with the court's ruling and return to work while we fight the case for them at the Appeal Court". When NAGRAT President, Mr Kwami Alorvi, was reached for his comments, he said the "association's position is already contained in the release," and would not comment further.
Mr Michael Nsowah, Acting Director General of the Ghana Education Service, said it was gratifying that some of the regional chairmen had moved swiftly to comply with the directive from the national secretariat.
He said the first week that the teachers have not been to school will not be used in determining their November salary saying that if they resume immediately they will be paid their full salary for the month.
The GES blocked the salaries of all the striking teachers for the month of October, saying that since the teachers did not work, their salaries would not be paid.
NAGRAT embarked on a nationwide strike on September 1, 2006 to back their demand for better conditions of service.
On October 11, the National Labour Commission filed a writ at a Fast Track High Court in Accra contending that NAGRAT did not follow the appropriate procedure and asked the court to declare the strike illegal.
On October 31, the court, presided over by Justice Richard Asamoah ruled that the strike was illegal and asked its members to go back to the classroom.