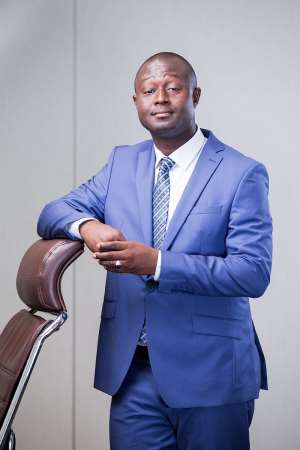 Dr. Poku Adusei
I returned to Ghana in December 2016. I moved to Ghana because I love Ghana and wanted to start something better with my life here and have a family with the woman I was dating then.
Things didn't work out as planned. I had to quit the translation and supervisory job I was doing for a Chinese company within 3 months, due to security reasons, even though, the salary and other incentives were very good. My relationship with that woman didn't go as planned as well.
So I was home unemployed.
In 2009 or 2010, I first met my friend and brother, Dr. Poku Adusei, Esq, and our relationship was solid that his extended family took a liking to me as well. Even when I was in medical school, we still kept in touch.
One thing I never took for granted was our friendship and tried every means possible not to personalize it.
Some days after we won the 2016 elections, I went to him at his previous chambers in East Legon, from Asante Mampong and I went with one reason, "Onua, I need a scholarship." he promised to help me in any way he can and that I should pray for him.
I've never needed an appointment to see him from his days as a lecturer at Law School, Legon to date.
One night, around 11, my bro called and said, "Oware, adɛn, w'ada?. W'anya adwuma ayɛ anaa?"
I answered in the negative and he said "send me your CV first thing tomorrow morning."
I got a job in a reputable institution and moved to Accra.
Onua, that kindness has helped me a lot in life.
Based on this help, it has opened greater doors for me. From, meeting Dr. Bawumia, having meetings at Jubilee House, having meetings with the IGP, sitting in the same car with him, having dinner with the Chief of Army Staff, and having discussions and plans with the Ashanti regional army commander and a whole lot. Lastly, I nearly married the daughter of Dr. George Sipa-Adjah Yankey.
Onua, I know better days are yet to come for me and I will never take that opportunity you gave me for granted.
Accra, again, has given me a beautiful and amazing woman as a wife and I couldn't have asked for a better person but her.
I won't wait for me to make a household name in Ghanaian business and politics before I show my appreciation.
Through this kindness, I've gained employment for 4 people, and with the support of my wife, then friend, and girlfriend used to give ₵500 monthly to the needy we identified that needed start-up capital. We went on a break but we will resume that kindness in February next year.
My advice to the young ones coming is never personalized relationships you have with people who have more than you.
They allow you into their innermost chamber because they trust you. Don't betray that trust and relationship.
I never begged him for money, even when I was struggling to feed myself. I rather asked for something that will help me to be self-sufficient.
Onua, Akpɛ!