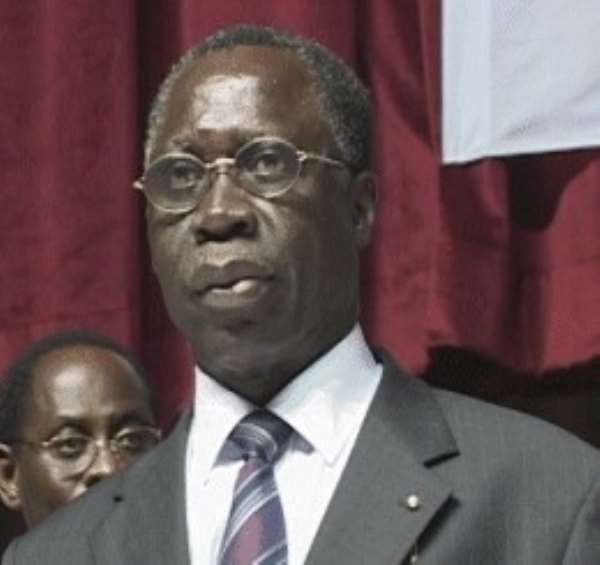 Yaw Osafo Maafo, the ex-cabinet minister whose presidential ambitions seem to many to have dropped into a limbo is still seriously in contention for the New Patriotic Party presidential candidacy.
Later this month, Oyeadeyie, as Osafo Maafo is popularly called, will launch his campaign with a big bang! From then he will use a blend of Ghanaian and ultra modern campaign strategies that are still new even in the United States and Europe to leap ahead of his dozen or more contestants in the NPP.
A well organised press office will back him as he shrugs off an avalanche of allegations of scandals that it is anticipated his detractors and assigns of his competitors will heap on him.
To gather momentum, Osafo Maafo is delivering a lecture this week at the State University of New Jersey on the topic, "the impact of globalization on developing countries; learning lessons from Ghana".
Next he will lead a discussion on a breakfast forum by "Let's Go Africa Foundation in Washington on "the role of the Diaspora in a partnership to confront poverty in Africa after decades of independence".
His third discussion will be on, "education reform in Africa, the role of the training colleges" at the Wheelock College, Boston, Massachusetts.
The acknowledged ex-Finance Minister and Education Minister is expected to be in his elements while delivering these lectures which are planned to enjoy wide publicity in the western as well as local media for obvious effects.
Osafo Maafo's press secretary, Prince Aboagye, indicates that his boss's campaign will actually start in the US whose Ghanaian community has a huge and influential NPP caucus.
Aboagye says Osafo Maafo will also meet and interact with sections of the Ghanaian and business communities in New Jersey, New York, Washington and Toronto. The interaction "will centre on socio-economic issues affecting the country".
The 64-year-old Akyem Oda MP, an engineer/ banker, started drawing public attention when he turned an ignominious National Investment Bank into a profit making and competitor in the nation's financial sector but got sacked almost immediately after, for reasons that were never made clear.
Those were the Provisional National Defence Council days when elements perceived to be anti government were being weeded out from every conceivable sensitive or lucrative place.
When the NPP decided to contest the 1996 parliamentary elections, he donned the party's jersey to claw back the seat of Akyem Oda, dishing out a humiliating defeat to incumbent MP Abora Boateng who stood on the ticket of the National Democratic Congress. As a ranking member of the minority, he held the post of spokesman on trade and industry.
Then came a time to share ministerial positions when his party dislodged the NDC from government in the 2000 elections.
His party leader and President John Agyekum Kufuor surprised many when he did not make him minister for Trades and Industry but, rather Finance.