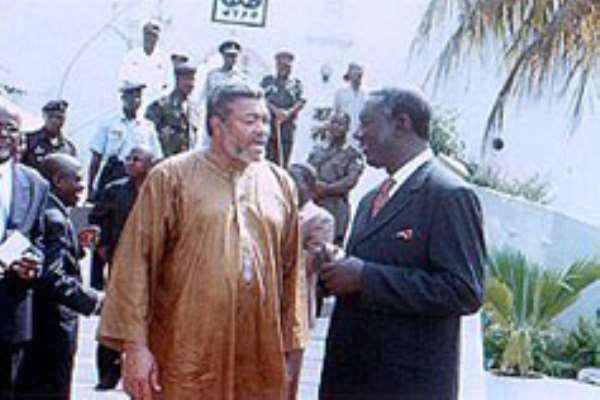 The Youth Wing of the nation's two most powerful political parties, the New Patriotic Party (NPP) and the National Democratic Congress (NDC), have begun what appears to be a rather herculean task of reconciling former President Rawlings and his successor, John Agyekum Kufuor.
The move comes just a week after Mr Rawlings served notice that anyone who attempted to mend the collapsed rapport between him and President Kufuor would be wasting his time.
Analysts have warned that if the hostility between the nation's two most powerful figures is not swiftly addressed, national unity and security could suffer serious consequences sooner or later, epecially when the nation is about to celebrate its 50th Anniversary.
Several months ago, the nation's religious leaders initiated what turned out to be a failed attempt at settling the fierce rivalry between the two men.
This notwithstanding, the youth wing of the ruling NPP and the opposition NDC say they are determined to make Mr Rawlings and John Kufour the best of friends.
Mr John Boadu, the National Youth Organizer of the NPP, however, did not disclose to CITI NEWS how they intend to reconcile President Kufuor and former President Jerry Rawlings within the shortest possible time, even though they are determined to do it..
Meanwhile, the National Youth Organizer of the opposition NDC, Hon Haruna Iddrisu, has called on all well meaning Ghanaians to throw their weight behind renewed efforts to reconcile President Kufuor and his predecessor, Jerry John Rawlings.
In an interview with CITI NEWS, the Member of Parliament for Tamale-South insisted that Ghanaians cannot give up efforts to unite the two men.
He told CITI NEWS that Ghanaians need to appreciate that the open hostility between the nation's two most powerful Johns is not in the national interest.
Hon. Haruna Iddrisu is of the view that reconciling the two men is key to deepening national cohesion and that all Ghanaians should unconditionally support latest attempts at uniting the two men succeed.