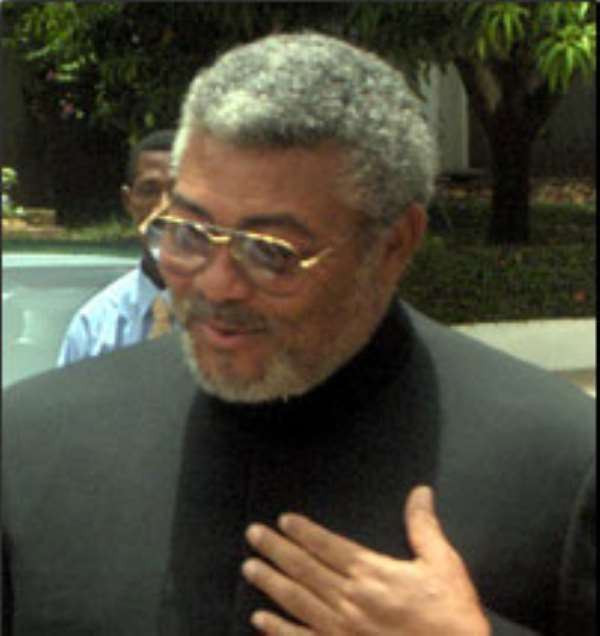 Barely 24 hours after GO Intelligence plugged into the ostentatious, roller coaster life of Kimathi Rawlings, 21-year-old son of ex-President Jerry John Rawlings, the soon-to-be King of the World, has beaten a retreat.
Kimathi's flight followed a blitz exposed by GO in a matter of public interest on account of ex-President Rawlings' continuous penchant for labeling every political opponent 'corrupt', particularly when his own son wallows in opulence in Europe.
Last Monday evening, when GO decided to make another foray into King Kimathi's bunker, we found out that the website, designed and coloured in lurid and vainglorious material, and also displayed with impunity for public consumption, has been restricted.
The Kimathi expose which has sent the acolytes of Mr Rawlings scurrying for cover has witnessed attempts to question our 'obsession' with Father Rawlings. What the Rawlings acolytes do not know is that Kimathi himself of his own free will published all the information at our disposal on the Internet for worldwide consumption.
In spite of his smartness, the Junior Rawlings, however, was not able to beat newsmen in the battle of wits and intelligence. Newsmen succeeded in unearthing more information on him that the analyses the Kimathi spirit, and the philosophy that fires the family's inordinate thirst for power and glory, even at the cost of national honour, glory and security.
Kimathi, perhaps in anticipation of his coronation as 'King of the World in a couple of years', has already sent a note to one of his countless bourgeoisie and capitalist girl friends, imperiously demanding a red-carpet treatment at the lady's birthday bash. Kimathi wrote: "Hey you, am gonna make it so u best put me down for VIP". The lady, Marina Gu had sent a simple invitation to Kimathi which reads thus "Ahoi! Matey could you kindly pls let me know if you can come for my 21st parteeey on 4th Nov. Need 2 know as am sorting out numbers!!! Much lovin' xxx"
GO has the Kimathi website sell-secured in spite of the restriction that has been introduced and will be giving readers a peep into the young man's roller coaster life.