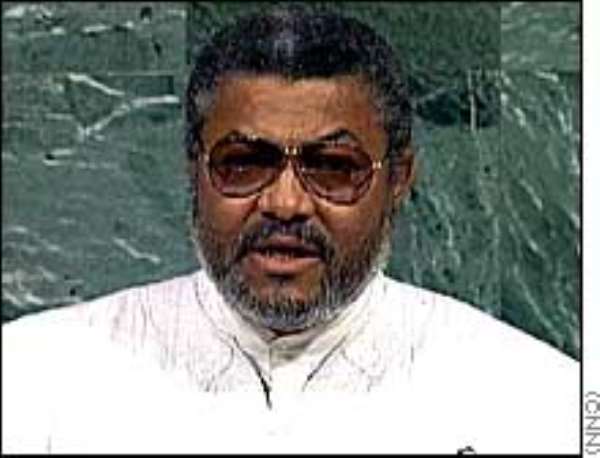 The seeming lull in the high-place tirades over who is doing what and who has what to say between President Kufuor and former President Rawlings has just been refueled.
The office of the former president says it is still not satisfied with the government's 'proof' of a coup plot alleged against Rawlings and that President Kufuor who made the allegation, will have to come again.
In reaction to the government's news conference held earlier this week to react to an earlier one by Mr. Rawlings, Special aide to the former President, Victor Smith said it will be necessary for President Kufuor to state the basis upon which he accused Mr. Rawlings of a plot to topple his administration.
According to him, this will reassure investors who might have been scared off by the president's coup scare and a failure by President Kufuor or his spokespersons to provide proof will confirm their assertion that he was just leveling unwarranted accusations to score cheap political points.
"We deem this as a very serious matter, the allegation by the President and the failure of the Minister to do so actually makes one conclude that the President's comments were mere effusions of a frustrated leader, you know, bedeviled with all the scandals and accusations leveled against him and his administration and he just decided for political expediency to come out with that type of accusation or allegation."
Asked if an allegation that the former President had said on a radio station in London that if the lies, atrocities and corruption that have bedeviled the Kufuor administration continued, there would be a coup to arrest the situation was not cause enough to worry about, Victor Smith said he was not sure Rawlings said that and even if he did, what he meant was that the government was providing the grounds for a coup, he didn't mean it was going to come from him.
Smith agreed that the government had every right to worry about the former President's background as a successful organiser of two coup d'etats, but that was no reason to mount a political platform and publicly accuse Rawlings without providing proof.
"Did he not have all the state apparatus,... the national security and all the security agencies around to even invite the former President to go and assist them in resolving that worry? Must he go and use a political platform to do that? He (Rawlings) has come out categorically in his press conference that he did not do any such thing and if President Kufuor has good evidence he should come out with it or let his security people come out with it."
Smith said government's silence over alleged fake coup plots published in the media this week seem to give credence that there was some fishy plans to fake a coup.
"So you create panic and anxiety in society and you say you are a good government? I have my doubts about that."
Meanwhile the Executive Director of the Centre for Democratic Development, Prof. Emmanuel Gyimah-Boadi has dismissed calls for reconciliation between President Kufuor and his predecessor, Jerry John Rawlings.
He said the two men are aware of the implications of their verbal exchanges on the psyche of the nation and should show leadership by example.
The CDD boss told Joy News that even though Mr. Rawlings should have been more decorous in his criticism of the Kufuor administration, government also over reacted to the issues especially to claims that there could be a coup.
Prof. Gyimah-Boadi said the two men should be able to cease the verbal hostility without any prompting.