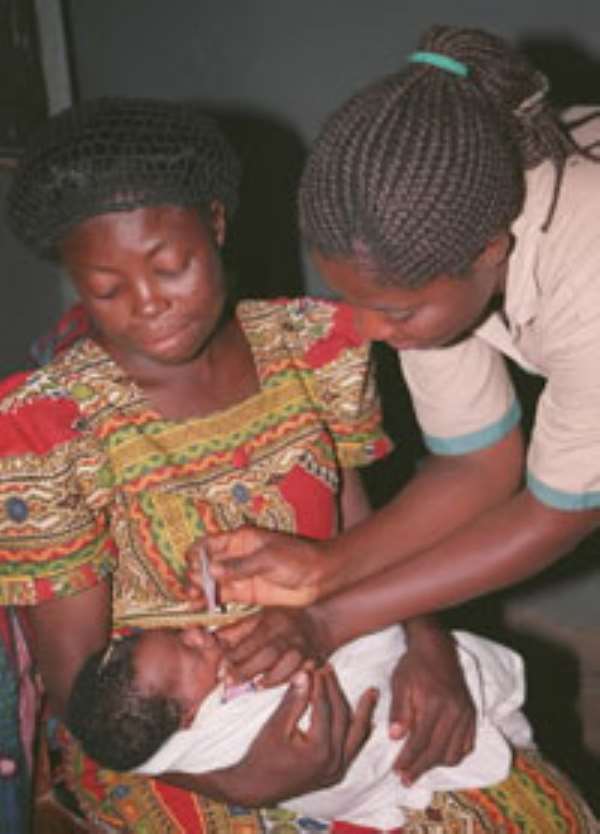 This year's National Immunization Programme Integrated Child Health Campaign starts throughout the country today.
Under the programme, which will end on Sunday, all children under age five are expected to be immunized against polio and measles.
Children between six months and five years will, in addition received vitamin A capsules while all children under two years who are immunized would receive free insecticide treated bednets.
The Director General of the Ghana Health Service, Professor Agyeman Badu Akosa, will tour Bukom, Sodom and Gomora, Nima and Maamobi Centres in Accra to witness the immunization exercise.
The campaign which was launched naturally by President J.A. Kufuor on October 27, is under the theme; "For Healthy childhood, let's fight measles, polio and malaria in campaign.
Launching the Upper East Region campaign in a broadcast over Local URA F.M. Radio Station at Bolgatanga yesterday, Mr. Boniface Gambila, the Regional Minister, said the future of the nation depends on the young children who are the future leaders, reports A.A. Mbord.
He said malaria has been the number one killer of children in the region and as such all children under two years who will be immunized during the period will be provided with free mosquito nets to protect them.
He noted with satisfaction that measles has been eliminated in the last 10 years.
For example in 1996, the region recorded over 6,000 measles cases and by the 2002 the number of cases had fallen to under 400 and the figure dropped further to only 11 last year.
He, however, pointed out that despite these achievements "our children are still at risk because Ghana is surrounded by countries which are yet to make these gains."
Secondly, he said the region has not yet hit the more than 90 per cent coverage of routine vaccinations which will create herd immunity amongst people, and called for the co-operation of all.
During the exercise, 323,427 children are expected to be immunized against polio, 274,913 against measles, 291,084 to be given Vitamin A, 129,371 bednets and 194,056 dewormers.
He called on the DCEs, Chiefs, assembly members, religious leaders and other opinion leaders to take personal interest in the exercise to ensure that every eligible child receives one or all the benefits.