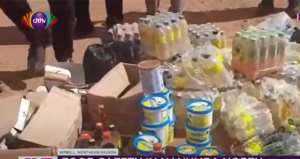 The Environmental Health Unit of the Nanumba North Municipal Assembly in the Northern Region has destroyed expired goods seized from shops in Bimbilla.
The goods including soft drinks, margarine, rice, maggie cubes amongst others were confiscated during the unit's routine checks at various shops and markets within its jurisdiction on Thursday, November 17, 2022.
The environmental health unit clothed with the responsibility to ensure the health of the citizenry embarked on an exercise in Bimbilla town targeting expired goods.
Speaking with Citi News' Northern regional correspondent, Mohammed Aminu Alabira, the Municipal Director of the Environmental Health Unit, Alhassan Abdul Samed, explained that the exercise will be sustained to ensure the safety of consumers.
He advised consumers to be vigilant when purchasing consumables by looking out for the expiry dates on products they buy.
"During one of our inspections to some of the stores that sell these consumable goods, we detected that some of the goods have expired, and they were on sale. This is something we do most often. We go to the stores, food vendors, and drinking bars to do inspections. People should be observant whenever they are buying items. They should check for the expiry dates, it has a purpose that is why it is there," he advised

Some of the shop owners commended the Environmental Health Unit for beefing up their game, adding that the exercise will help shop owners to take proper stock of their expired goods.
Speaking with Citi News, environmental health students who are on practical attachment acknowledged the knowledge they have acquired by participating in the exercise.
By Citi Newsroom