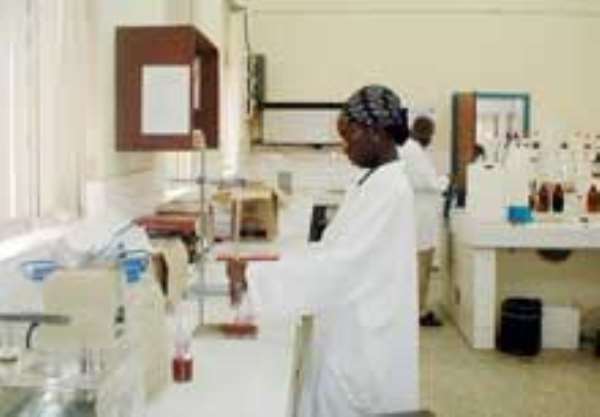 Research Staff Association of the Centre for Scientific and Industrial Research (CSIR), have criticised the discriminatory manner salaries of professionals have been handled by the government.
According to the National President of the association, Dr B.N. Nuertey,
while scientists appreciated government's efforts at stabilizing the micro-economy of the country, they found it sad that government had substantially improved the conditions of service of the universities since 1999 with no regard to research scientists.
Speaking at the opening of the 17th Annual General Meeting of the CSIR Research Staff Association at Kade on Monday, Dr Nuertey said the Centre was still fighting to be placed at same level with the universities in terms of salaries and allowances.
Dr Nuertey said as many as 83 scientists left the CSIR between 2001 and 2005 with most of them going to the Universities and appealed to the government and CSIR Management to act promptly to reverse the situation.
A Deputy Minister for Education, Science and Sports, Mr. Kwame Amporfo-Twumasi said government alone could not provide all the requirements for a vibrant science and technology development of the country.
He tasked the CSIR and other public organizations to engage in income-generating activities to boost their internal funds to support government subventions.
Mr. Ampofo-Twumasi said government would intensify the education of the private sector of its needed contribution to add value to science and technology development.
He said his ministry would organize a roundtable conference with the participation of government, research and industry to strategize on how to exploit science and technology for the country's economic advancement.
The Director-General of the CSIR, Professor Owusu-Benoah, said science and technology had become more critical than ever as the key to development.
Professor Owusu-Benoah said the impact of the work of the CSIR cut across all sectors of the economy, however, to a greater extent, the impact is felt more in the agricultural sector.
He said it was currently estimated that about 75 percent of farmers in the country used improved crop varieties developed by the CSIR over the years.
Prof. Owusu-Benoah noted that, the impact of that on food security and by extension, to socio-economic development, if quantified in monetary terms, would run into several billions of cedis per annum.
The Director-General said he strongly believed that for Ghana to advance into global competitiveness, funds must be devoted to build information technology and other resources crucial to the knowledge-based economy.
It was therefore for the private sector and the research institutions to improve upon their collaboration to facilitate the transfer of technologies.
In a speech read for him, the Eastern Regional Minister, Mr. Yaw Barimah challenged the research scientists to come out with demand driven, technologically and environmentally appropriate research findings to enable the nation to leap in its development.
He said he knew that with the necessary support, the research staff association of the CSIR could deliver expertly.