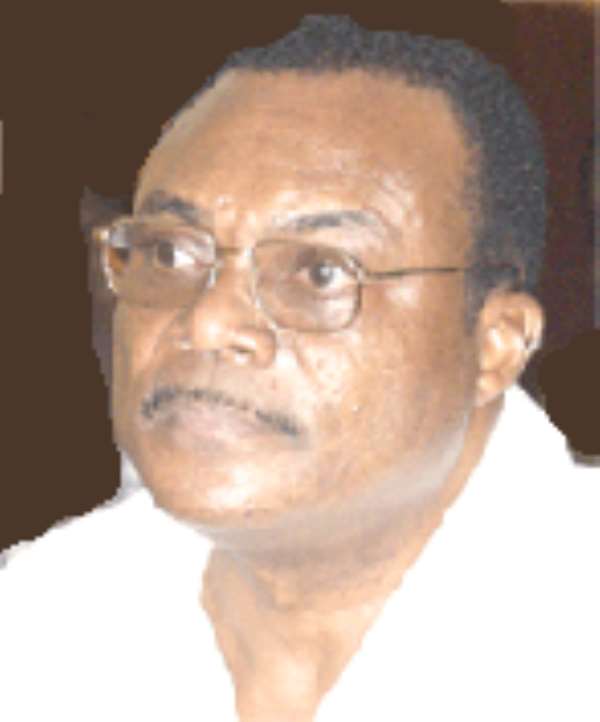 The Minister of Health, Major Courage Quashigah (rtd)
The Minister of Health, Major Courage Quashigah (rtd) says he is now fed up with the "Rawlings has said this" and "Kufuor has replied" and asked Ghanaians to instead, develop interest and talk about issues that are "inhibiting our development".
"This kind of wild politics is even unhealthy for the mind and for the body. It is creating unhealthy atmosphere. So why don't we talk about the real issues affecting our country as far as development is concerned? The real issues are that, we are not healthy, and for that matter, we are not productive and for that matter, we cannot generate the wealth that is required to move this country forward," he said.
The Health Minister was speaking in an interview with the ADM, after addressing media personnel on the "Regenerating Health and Nutrition Project (RHNP)" to promote healthy dietary and lifestyle choices among Ghanaians. The Ministry is replicating a project from Dimona, a town in Israel which has a 3,000 healthy population of African-Americans descent.
He asked Ghanaians, especially the media to devote more time to health issues and "things that are inhibiting our development. Talk about issues that have to do with educating our human capital in the right direction, so that people can use their minds to turn their own natural resources into productive ventures".
Major Quashigah said only healthy, intelligent, strong and active human capital that is less prone to illness and injury is capable of being productive enough to attain the President's vision.
He said the bad health styles most Ghanaians live, has caused the government to spend a substantial proportion of the national budget treating preventable and avoidable diseases, which could have been used to enhance our health facilities.
He said the RHNP entails living a sensible lifestyle devoid of substance and alcohol abuse, excessive intake of sugar and salt. The project that is yet to be launched would restore, renew and revitalize the human body through maintaining hygienic and sanitary environment, consuming clean and safe water, consuming the right combinations of nutritious foods at the right time, eliminating waste from the body, regular exercise and creating time for relaxation.
Major Quashigah said four progammes have so far been designed to ensure the success of the project. They include: training, service delivery, communications and advocacy and a regenerating health communication centre.
He said the poor eating habits that Ghanaians have copied from the western world, have gravely affected the nation. Researched revealed that Ghana's mortality rate has dropped to 57 years as at 2004, with frequent reports of illnesses.
On the use of fertilizers, Major Quashigah, the former Agricultural Minister conceded that they help "up to a point", but "the soil is better nourished by itself", through shifting cultivation.
He said, "once the people who introduced us to fertilizers are now changing, I believe that we will also have the sense to change".
A short documentary that was shown before the Minister's briefing indicated that unhealthy eating practices kill two out of three Americans every year. Half of the mature population has heart threatening diseases and 40% are suffering from cancer related sicknesses.
It described "switching from plant food to animal food as the biggest health disaster in humans".