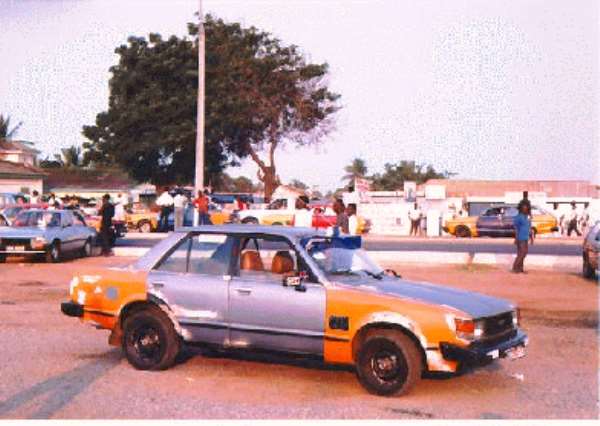 The Accra Metropolitan Chief Executive, Stanley Nii Adjiri Blankson, recently declared that from January next year, taxi drivers in the nation's capital would be required to wear blue-black trousers with white shirts.
He made it clear that the directive was among measures being adopted to commemorate Ghana's golden jubilee celebrations.

I clearly cannot understand why the mayor decided to prioritize this dress code for the cabbies in the city. In fact, there are more pressing problems that ought to occupy the attention of the city's authorities if there is to be a fruitful celebration of the 50th anniversary, which celebration has become contentious because of the colossal amount earmarked for it even while out teachers strike for better salaries.
The city itself ought to be beautified before any efforts are made to disturb the peace of the drivers, who are already reeling under less patronage of their service, due to high fares and the drought that has hit the pockets of many in recent times.
At least the majority of people are in the downtrodden category and do not benefit from the cocaine booty.
I have heard little about what is going to be done to deal with the sanitation menace in the city, which seems to be unsolvable looking down memory lane. How can we expect the cabbies to be adorned in white shirts only for them to continue to carry out their business on the dirty streets? I was not the least surprised when the drivers came out to protest the decision.
All over the city, we continue to see illegal structures that bear inscriptions purportedly put on them by the AMA, asking that those structures should be removed. Some of these inscriptions date back to 2003, but the structures are still stuck at the illegal places.
So if the city authorities have failed to get the structures out of the unapproved places, how can they expect some of us to take their pronouncements serious?
The hawkers are still on the streets and the central business district of the city continues to harbour traders at unapproved sites.

The traders who were flushed out from the streets and pavements and allowed to return because of the Odododiodoo parliamentary by-elections are still littering the streets and nothing is being said about what is going to be done to clear the streets.
Our markets, which are the final transit point from where food reaches our tables, are drowning in over-flowing garbage, and unbearable stench.
So if these problems continue to exist and nothing is being done to get them solved, why should the Mayor disturb our ears with stories about prescription of uniform for cabbies?