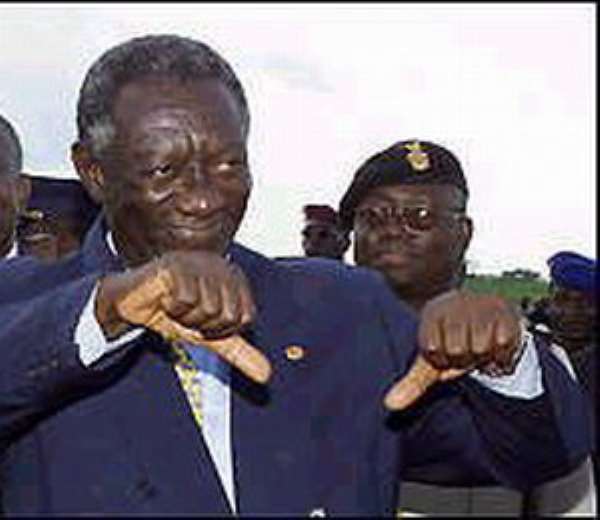 Ghana Scores 3.5
International bribery is more rampant than most realize: India, China and Russia are the 3 most corrupt trade nations among 30 of the world's top exporting countries.
Almost half of companies contacted by another international survey said that they had lost a deal because a competitor had stooped to bribery. One third of French companies claim to have lost a prospective customer to bribery in 2005 alone. Hong Kong was the most adversely affected, where over the past 5 years 76% of companies have lost a deal because of corrupt practices.
Control Risks and law firm Simmons & Simmons administered the bribery survey to 350 business leaders in 7 countries around the world. Most participants believe that global corruption will get progressively worse for the rest of the decade.
Another survey, the 2005 Transparency International Corruption Perceptions Index, measures the degree to which the world business community perceives corruption to exist among a country's public officials and politicians. Index scores range from 0 (extremely corrupt) to 10 (impeccably clean).
The list below identifies countries with a score below 5.0, the number that Transparency International uses to identify countries with a serious corruption problem. Countries with the lowest index scores are considered the most corrupt.
* score 1.7: Bangladesh, Chad
* score 1.8: Haiti, Myanmar, Turkmenistan
* score 1.9: Côte d'Ivoire, Equatorial Guinea, Nigeria
* score 2.0: Angola
* score 2.1: Congo, Kenya, Pakistan, Paraguay, Somalia, Sudan, Tajikistan
* score 2.2: Azerbaijan, Cameroon, Ethiopia, Indonesia, Iraq, Liberia, Uzbekistan
* score 2.3: Burundi, Cambodia, Republic of Congo, Georgia, Kyrgyzstan, Papua New Guinea, Venezuela
* score 2.4: Albania, Niger, Russia, Sierra Leone
* score 2.5: Afghanistan, Bolivia, Ecuador, Guatemala, Guyana, Libya, Nepal, Philippines, Uganda
* score 2.6: Belarus, Eritrea, Honduras, Kazakhstan, Nicaragua, Palestine, Ukraine, Vietnam, Zambia, Zimbabwe
* score 2.7: Gambia, Macedonia, Swaziland, Yemen
* score 2.8: Algeria, Argentina, Madagascar, Malawi, Mozambique, Serbia and Montenegro
* score 2.9: Armenia, Benin, Bosnia and Herzegovina, Gabon, India, Iran, Mali, Moldova, Tanzania
* score 3.0: Dominican Republic, Mongolia, Romania
* score 3.1: Lebanon, Rwanda
* score 3.2: China, Morocco, Senegal, Sri Lanka, Suriname
* score 3.3: Laos
* score 3.4: Burkina Faso, Croatia, Egypt, Lesotho, Poland, Saudi Arabia, Syria
* score 3.5: Ghana, Mexico, Panama, Peru, Turkey
* score 3.6: Jamaica
* score 3.7: Belize, Brazil
* score 3.8: Cuba, Thailand, Trinidad and Tobago
* score 4.0: Bulgaria, Colombia, Fiji, Seychelles
* score 4.2: Costa Rica, El Salvador, Latvia, Mauritius
* score 4.3: Czech Republic, Greece, Namibia, Slovakia
* score 4.7: Kuwait
* score 4.8: Lithuania
* score 4.9: Tunisia
* score 5.0: Hungary, Italy, South Korea
Due to an absence of reliable data, 34 of the world's 193 countries were excluded from the survey (including North Korea).
And The Winners Are...
The 10 countries with the best corruption index scores in 2005 were: Iceland (9.7), Finland (9.6), New Zealand (9.6), Denmark (9.5), Singapore (9.5), Sweden (9.2), Switzerland (9.1), Norway (8.9), Australia (8.8) and Austria (8.7). United Kingdom (8.7) tied for tenth place.
Canada finished in 14th place with a score of 8.4, while the U.S. was 3 places back with an index of 7.6. While less corrupt than Russia, India, China and Brazil, higher index scores do not mean that no corruption exists in these countries. Rather, the numbers identify show that there is room for improvement.
Countries that have improved their corruption index scores since the 2004 index include Argentina, Austria, Bolivia, France, Honduras, Hong Kong, Japan, Kazakhstan, Lebanon, Nigeria, Qatar, South Korea, Turkey and Ukraine.
Among the 30 leading export countries, Switzerland has the most pristine reputation for preventing bribes. The next most effective countries in preventing bribes were Sweden, Australia, Austria and Canada. The U.S. finished ninth, and faced criticism since America was one of the first countries to have legislation to prosecutive domestic companies using bribery to fuel international trade.