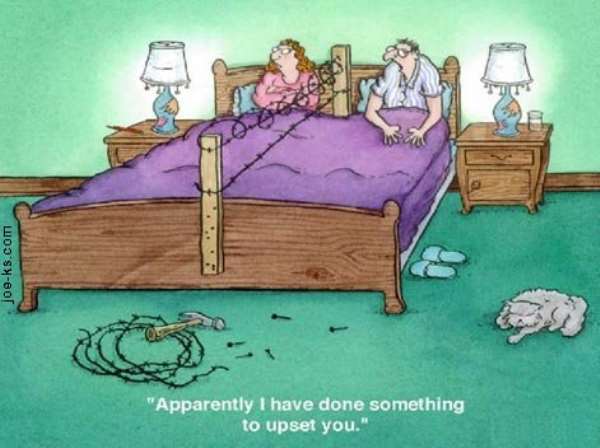 SINCE the beginning of time, people have searched high and low for substances they could use to stimulate and heighten sexual desire in themselves and others.
Many of such herbs, man has found useful in stimulating and heighten sexual desire include Yohimbe and Ginseng.
Yohimbe comes from the bark of West Africa's Yohimbe tree and as a sexual stimulant (aphrodisiac) that even veterinarians have used to threat impotence in stallions. It has also become widely available for human use because of the claim that this herbal remedy helps men overcome impotency by stimulating the nerve centre in the spine that controls erection.
Ginseng's reputation as a sexual stimulant has not been substantiated however, but its use most likely stems from its resemblance to the male organ. Also, its components such as ginsenosides is believed to promote sperm formation, stimulate sexual glands, increase male hormone production, and increase sexual capability, frequency and equality of male erection.
Also, a promising herbal remedy that stimulates sexual capability is the bark of Sphenocentrum jollyanum, an erect shrub occurring from the Ivory Coast to southern Nigeria.
This plant was first discovered by Diels in England. Locally, it is called Obalabi or Obanabe in the southern part of Nigeria. Yorubas calls it Ajo or Akerejupon. The plant occurs mainly in the rain forest areas, usually in damp places under forest cover. Its fruit tastes like mango and is edible.
Sphenocentrum jollyanum is believed by medicine men to have unusual leading properties, so explaining why the root extract is swallowed for constipation and to increase appetite as well as a stomachic in southern Nigeria and Ghana.
Even the root pulped with salt, fruit of maniguette and palm oil into a soft paste is eaten for abdominal troubles in Ivory Coast. A cough drop is prepared from the fruits together with the fruits of Piper guineanse (black pepper) and lime juice. Similarly, the fruits are used as anti -fatigue snack.
Dr. Yinusa Raji, a senior lecturer with the Department of Physiology, College of Medicine, University of Ibadan, Ibadan, speaking on this wonder herb for stimulating sexual drive confirmed its ability to act as an aphrodisiac.
The use of the plant's root as a chewing stick he said has been found effective in boosting sexual drive in men due to its tendency to boost the blood's testosterone level. Basically,the secretion of the hormone ,testosterone, is needed for the expression of sexual characteristics or virility and to stimulate male sexual organs.
He said that basically all aphrodisiacic substances can be classified into four main types: Narcotics, used to intoxicate the user's object of desire. The second type are substances that irritate the mucous membrane of the genitals, producing a warm, itching feeling similar to sexual arousal.
The other group tends to have the effect of directly increasing sexual desire and prowess, even increasing the intensity of the sensations felt during organism. The last group are herbs that alleviate medical problems that interfere with normal sexual function.
Such herbs alleviate the symptoms of a variety of genito-urinary tract infections, or supplies badly needed vitamins or minerals that are lacking in the diet, so allowing the individual with previously physical problems to function normally.
On Sphenocentrum jollyanum, much as the herb is able to boost sexual drive, he said people that use it needs to be cautious because some of its chemical constituents can also affect fertility negatively, creating a marked reduction in sperm quality and quantity.
The word of caution Dr. Raji said is based on the fact that when the herb was tried on rats, there was a significant reduction in sperm's ability to move. The reduction in the sperm's ability to move in the male organ of the rats was also dependent on the amount of the herb the rat was fed.
Also, there was an overall decrease in the total sperm count, depending on the amount of the herb the rat was given. Similarly, many of the sperms were also found to have become abnormal – headless tail, tailless head, bent tail, curved mid-piece and bent mid-piece.
Given the deleterious effects of the herb on sperm quality and testicles, Dr. Raji said men still wanting to have children should be careful to use the herb regularly to boost their sexual drive.
"We known defective sperm is the most common cause of male infertility and this is difficult to treat," he said.
While the plant was found to help to boost blood level (packed cell volume and red blood cell count), he said like researchers such as Iwu did find out, the aphrodisiac quality of the plant many be due on its neurological effect (ranging from relaxation to euphoria) as well as ability to increase blood flow to the male sex organ.
Similarly, almond, a large deciduous tree can help to boost sexual drive. The kernel of Indian almond was not only shown to have aphrodisiac activity, it is also useful in the treatment of some forms of sexual inadequacies (premature ejaculation).
Also, clove has been used in Unani medicine since ancient times as an aphrodisiac for the treatment of male sexual disorders. Scientists that worked on it in BMC complement Alternative medical journal found 50 per cent ethanolic extract of clove produced a significant and sustained increase in the sexual activity of normal male rats, without any adverse effects.
The effects of black pepper and Aframomum melegaueta to enhance the orientation of male rats towards the female ones by increasing mounting and anal sniffing behaviour of rats has also been proven scientifically.