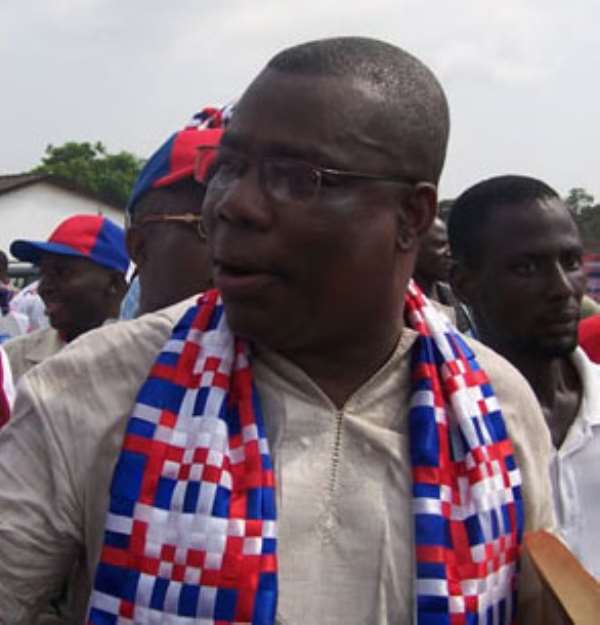 "they are lucky, we even wanted 70%..."
The National Chairman of the New Patriotic Party has said the National Democratic Congress (NDC) is in a "state of shock" after losing by a wide margin at Offinso.
Speaking to the Accra Dail Mail (ADM) yesterday, Mac Manu said the NDC were very confident especially after winning previous by-elections.
"They really wanted to prove a point, but we have shocked them, we have dismayed them, we have proved that we are still strong, and that we have more seats in the legislature and if we continue to win like this, then we are going to succeed in 2008," he said.
He said the Offinso by-election would forever remain in the books of the NPP party, not because they won, but because they won at a time some people thought the NPP was getting weak.
"Before this by-election people were castigating us that we are breaking apart and that our core supporters are running away and are disappointed, but this victory has proved otherwise," he said.
Mr. Mac Manu noted that though the NPP does not want Ghana to be a one party state, the party would also not stop fighting for what it deserves. "If Ghanaians vote for us in every election, we won't say because we don't want a one party state, we want rule…We would accept it in good faith and give them their heart's desire," he said.
Mr. Mac Manu, who has won his first major election, said he feels elated, though his target was 70% of the votes. "But 65.6% is not too much off target," he said.
He said the party used a multiplicity of strategies in winning the Offinso by-election. "We tried to whip up voter enthusiasm. We went to our core supporters, explaining the party's and government policies to them, so as to enable them know that NPP is still the party for today, tomorrow and the future.
"We were the first political party to pitch camp in Offinso and interacted with all the good people of the area, from the chiefs to the ordinary man on the street… A lot has happened in Offinso; infrastructure, economy, agriculture, which is the main work of the people. From the polling station to the constituencies we were working hard. Our ability to win back our people who went prodigal and coupled with the visit of President Kufuor, our MPs and ministers also played a part in our victory," he explained.
Asked if the vast resources at their disposal helped them, especially as a party in power, he said: "Our MPs came with their own cars, they bought their own fuel. We came with our own car as a party and we bought our own fuel. That is the determination. The party - from the national executives to the local executives - is determined to prove a point. We worked assiduously towards this and we won. I don't think anyone can say state resources were at our disposal so we used them.
"What about Odododiodio? Didn't we have the resources? How come the NDC won?" he quizzed. He noted that the party spent a lot in resource mobilization. "As a political party your ability to mobilize resources is also part of the game. So we did an effective and efficient resource mobilization. Some people would donate their vehicles, some would offer themselves free and buy their own food, and some people [were with us] campaigning in all the corners of Offinso. If you put it together into money it is huge, but let me tell you, our resource mobilization was good," he said.
The NPP National Chairman said the NPP executives are not going to relent in their efforts after this by-election.
"We want multiparty democracy and call for every political party to come on board during any election; but we would not sit down and think we are done…We would work harder and harder and consolidate the gains we have made so that we can achieve victory in 2008," he said.