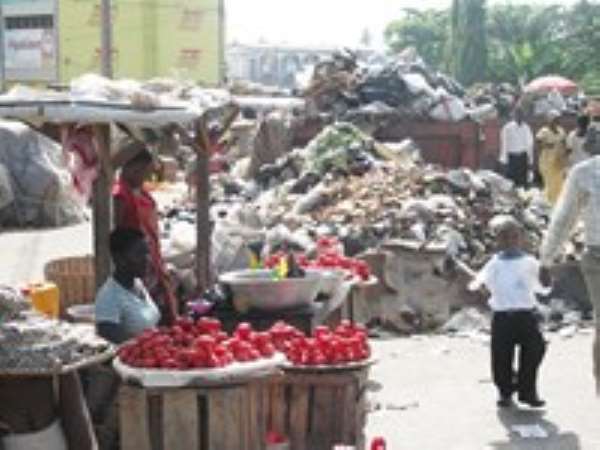 SOME of the traders affected by the demolition of the old Kasoa market, have defied the district assembly and created a new market at the Kasoa Zongo area.
As a result, the new District Assembly market has been abandoned leaving only a handful of traders to do business there.
Poor sales at the new assemly's market and the lack of enthusiasm on the part of most traders to relocate to the new market are District Assembly.
A visit by the Times to the market last Tuesday, a market day, revealed that the market was almost empty although the sheds at the market according to authorities of the assembly had all been allocated to traders.
Another visit to the market at the Zongo however revealed brisk business activity there with no benefit to the district assembly's office
Traders occupaying the about 300-metre stretch market from the front of the Odupong Kpehe Rural Bank through the Kasoa Central Mosque to the Odikro's Palace and around, are said not to be paying any tax to the assembly.
However, Times investigations have revealed that the leaderships of the Zongo area market collects ¢5,000 daily as tax from each trader.
The assembly's Kasoa market on a non-market day could be likened to a cemetery as only a handful of traders are seen sitting by their wares with hardly any buyer coming their way while brisk business continues to go on at the demolished old market grounds.
Consequently the traders have called for the immediate closure of the Zongo market and also urged the assembly authorities to make the lorry park at the new market the last stop for all commercial vehicles from Accra and elsewhere.
They argued that commercial vehicles plying Kasoa have made the old market site their boarding station or last stop hence most people end up their journey and do business there rather than pay the extra fare to get to the new market.
When contacted, the District Chief Executive of the Awutu-Effutu Senya District Assembly, Solomon Abbam Quaye, said the situation had greatly affected the revenue of the assembly.
He confirmed that traders who were moved to the new market following the demolition of the old one were going back to the Zongo market.
As to whether the assembly collects tax from the traders at the Zongo market, he replied: "You dare not go there."
Mr. Abbam Quaye said the assembly had received a number of threats from some residents following the demolition of unauthorized structures along the major roads in the town last week.
The old Kasoa market was demolished in February this year, to decongest traffic in the area which has since the reduced significantly.