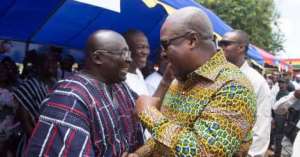 Even though the United Kingdom, UK, has thousands if not millions of companies including Political Think Tanks Research Companies, Market Research Companies all of which, in a technological era, are found online, the latest research company purported to have found the failed Ghana's Vice President, Dr. Bawumia winning the 2024 presidential election, can't be found online as a company.
Unlike all other research companies in the UK and their output and findings online, Info Research Assessment UK Limited with its operators namely: Geoff Hurst, Olubanji Adeboye, and Kwesi Degraft Johnson, cannot be found anywhere related to the said research company, and its address appears false!
In fact, that name is very strange to Google despite their latest research findings that have been trending online on Ghanaian social media space.
As it tends out, their research breakthrough that strangely projected the Ghanaian economic Jihadist, Dr. Bawumia as the next president of Ghana, appears more fraudulent than the Ghanaian economic management team!
Fellow Ghanaians, to fail with honor and dignity is always cherished than to win by fraud.
Obviously, that survey has been cooked up and probably sponsored by "political fingernails cutters" who are desperate to break their necks and mistake that slogan for "to break the eight".
But unlike other research groups, such as BALTIC SURVEYS with their link to accessing and assessing them: https://directory.esomar.org/country/105-lithuania/r765_Baltic-Surveys.php; and CID GALLUP with the internet link to accessing and assessing their findings: https://directory.esomar.org/country/45-costa-rica/r1287_CID-Gallup.php , the so-called Info Research and Assessment UK limited, doesn't exist on the internet.
No way! What a fraud!?
Which means that, Ghanaweb and all media platforms who reported it had received it by hand and not through the conductors' website platform. Possibility is that, this so-called survey could have been fabricated by somebody's bedroom. In order words, it is an "armchair professor work" geared toward drumming home a political agenda.
In their fabricated and warped findings, 47% said Bawumia will win and 36% endorsed President Mahama. What shameful politics are we politicking among ourselves in Ghana? That, a political party takes up the reigns of government and runs the country aground and what it can do to save itself from being imprisoned by a next government, is to forge such a phantom survey?
Closer examination suggests that some political hatchet men were recruited to concoct these lies. No survey took place anywhere. And the very obvious one has been the sources.
The fact that Ghanaweb released such a crucial research without proof of internet link to directing their news consumers to this research company or firm, is what makes the research a chilling fraud!
Although starfmonline claimed to have detailed the research in their reportage, nowhere has starfmonline produced evidence of such company's existence to their readers!
Personally, I realized the deception and falsehood of this unfortunate survey in the so-called details of that bogus research. And unless you are clouded by party colors and symbols or ethnicity, it's very clear to point out the thievery and forgery in that gibberish survey.
That is, the information and content of the research is highly questionable and grossly skewed that it should not take a kindergarten leaver to detect the fraud, subterfuges, and criminality embedded in it.
First of all, the sample size of 254,759 in all regions of the republic of Ghana exposes the dishonesty of that research if not an intellectual laziness on the part of those who carried out this fraud research.
If you divide this figure by 16 regions in Ghana the answer you would get would be a decimal number (15,922.4375). Which means, it was not based on equal sampling from the regions. This alone could skew their data.
This is despite that one cannot have human beings in decimal points if the data was gathered based on allocation of equal sample sizes to the various regions.
Remember, there are no half human beings.
Moving on, one does not need to X-ray the research to realize the bias and lack of impartiality in their submissions in the research. For example, percentage of respondents to polling question number 1 which is perked at 52.5, has been a complete fraud. Polling question 1 seeks to know whether Ghanaians believe Covid and Ukraine war have impacted the economy negatively. And we have all listened to casual interviews of many Ghanaians by both Citi TV and Joy TV on that issue and the response has always been negative. Many Ghanaians believe it's mismanagement of the economy and not Covid-19 or Ukraine war. For a staggering 52.5% of respondents to have accepted that deception of government is neither here nor there. It's inaccurate.
In fact, Covid-19 in Ghana was a blessing in disguise. The over 30 billion accrued from donations was marvelous. Again, the 2 billion dollars IMF dished out to Ghana was due to the pandemic in order to assist cushion the economic shock by the pandemic, was a blessing to the country.
Among other things, that money was to be used to subsidize fuel for Ghanaians and other consumer goods as well as for citizen-support funds where some stipend could have been allocated for Ghanaians. That never happened, yet government can't account for the money.
This braggadocious misappropriation of the Covid-19 funds has been the cause of the current mess. If government has been honest and prudent with the Covid-19 funds, Ghana would not have its currency being the worse performing currency in the world.
In Nigeria, for example, the Cable reported on August 18, that as part of measures to alleviate the suffering of the Nigerian masses, Zainab Ahmed Shamsuna released over 18.39 billion Naira to subsidize fuel in Nigeria EVERY DAY.
What has Ghana government done, apart from forging economic figures and data?
It is why in Nigeria a gallon of fuel is bought at less than two dollars, and in Ghana a gallon of fuel is around 6.8 dollars.
One other thing which has been polluted with