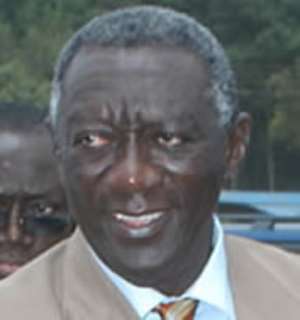 President John Agyekum Kufuor on Monday called on Muslims not to fear to correct the wrongdoings of their fellow Muslims.
He said this would not only help to bring peaceful co-existence and love among them, but it would also ensure peace and proper socio-cultural development.
President Kufuor was addressing thousands of Muslims in an open-air prayer to mark the celebration of Eid-ul-Fitr at the Central Mosque in Kumasi.
He observed that things were getting worse in neighbouring countries as a result of racial discrimination and religious and tribal conflicts, and stressed the need for them to pray that this does not happen in Ghana.
"We are all one people with common destiny, hope and aspiration and we should therefore refrain from immoral and negative practices that could create division among ourselves".
President Kufuor urged the Muslims to tolerate divergent views, saying there was nothing wrong for somebody to voice out his mind on an issue. "Why can't we love each other on our short stay on earth".
He stressed the need for them to assist their children to acquire secular education after "makaranta" so that it could help them to be all round in their developmental efforts.
President Kufuor, who on behalf of the government presented a cheque for 10 million cedis to the Muslim community, called on them to support the government in its efforts to develop the country.
He called on them to embrace the National Health Insurance Scheme (NHIS) in order to benefit from it.
Mr Emmanuel Asamoah Owusu-Ansah, Ashanti Regional Minister, said the faith that urged Muslims to fast for 30 days should also encourage them to work hard and love one another to enhance peace and stability in the country.
He said education was an important tool and asked that they take advantage of the capitation grant and send their children to school especially the girl-child.
Sheikh Abdul Harun Moumin, Deputy Ashanti Regional Chief Imam, who led the worshippers in prayers, called on Muslims to eschew immoral practices that can tarnish the image of Islam.
He said it was unfortunate that people hide behind Islam to create confusion in the society and urged them to avoid such people.
President Kufuor later went to the on-going Asafo-Adum Interchange project site to see the progress of work.