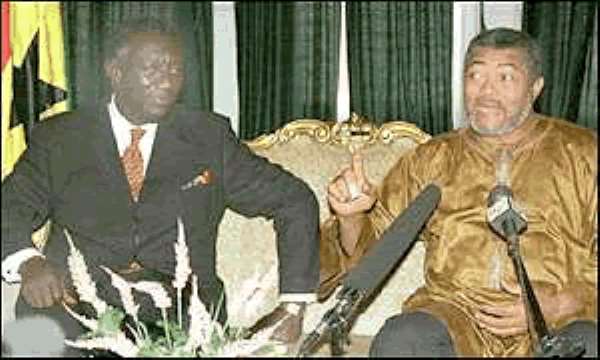 President John Agyekum Kufuor has accused former President, Jerry John Rawlings of soliciting financial support abroad to destabilize the country.
The President made the charge while addressing an NPP rally to round off campaigning ahead of Tuesday's Offinso South by-election.
He said the government had credible information that the Ex-President had appealed to the president of an oil rich country to support him financially to destabilize the country.
President Kufuor warned that the government had nothing against the former President, however every force would be mobilsed to deal with him if he attempted anything nasty.
The ruling NPP has an Accra-based medical practitioner, Dr. Owusu Achaw Duah to contest on the party's ticket.
The Democratic People's Party has fielded a candidate while the NDC has fielded 32-year-old Barbara Serwaa Asamoah, a student of the Kwame Nkrumah University of Science and Technology (KNUST) for the contest.
Mr. Emmanuel Kwasi Addai, a teacher and onetime District Chief Executive for the area during the administration of the National Democratic Congress (NDC), is contesting as an independent and has urged the electorate to "open their eyes and minds" and vote massively for him so that they do not regret.
He said he has a good track record in the district, in addition to the fact that he was with them and knew their problems.
"The people know me and what I am capable of doing. I have been living in Offinso and I know all the towns as well as their problems. The people do not like NDC and are disillusioned by the policies and programmes of the NPP. I know they will vote massively for me come Tuesday."
The aspiring MP called on the people to eschew hooliganism, vandalism, insults and other negative attitudes that could mar the election.
He denied speculations that the NPP hierarchy gave him 500 million cedis, a vehicle and 20 motorbikes for his campaign as a strategy to split votes of the NDC.
"I am popular with the people and I am going all out to win the election convincingly".
The seat became vacant after the MP of the area, Kwabena safo died The late MP was buried on Saturday.