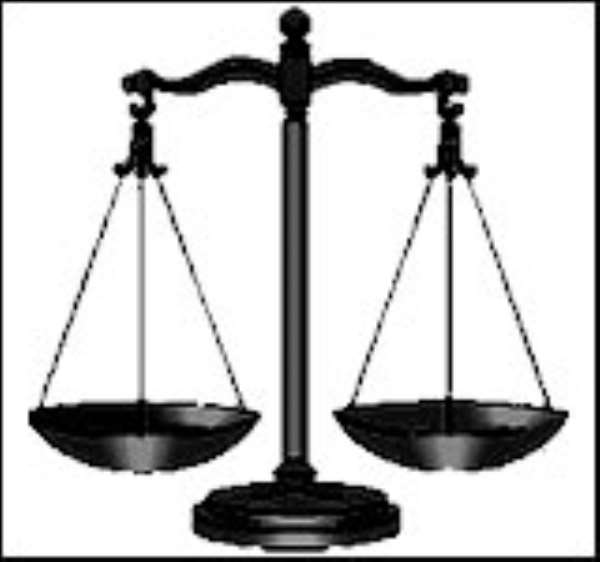 A District Magistrate Court at Nkawkaw, presided over by Mr. William Boampong, has remanded a 37-year-old truck pusher in prison custody for raping a 20-year-old married woman at Nkawkaw.
The court heard that on October 12 this year, the truck pusher, Kwasi Buabey who lives in the same house with the victim requested to purchase three hundred cedis worth of salt to prepare his meal at about 1900 hours.
He said the victim instructed her daughter to send the salt to Buabey but he refused and urged the victim to bring the salt herself.
The victim then sent the salt to Buabey in front of his room but after receiving the salt, Buabey dragged the victim into his room, stripped her naked and pull a cutlass and threatened her to keep quiet. He subsequently assaulted her sexually.
The victim later informed her husband of her ordeal and he accompanied her to the police station where a form was issued to her for medical examination.
Buabey is to appear before the court on November 3, 2006 for trial.
Meanwhile the Reverend John Adubah, Bishop of Tarkwa Diocese of the Methodist Church has called on Christians not to forget Ghana in their prayers.
Making the call during an all denominational night service at Gadiel Acquaah Methodist Church at Tarkwa, Bishop Adubah said prayer is the key to the solution of problems.
Bishop Adubah mentioned rape, homosexuality, lesbianism, corruption, drug trafficking and armed robbery as some of the vices, which were gradually and consistently bedeviling the Ghanaian society and urged society to fight them.
"These vices do not only impede development but they also block blessings from God."