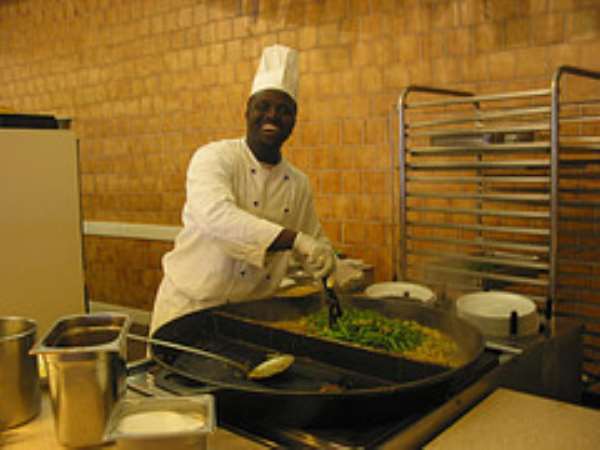 Today,October 20 is International Chefs' Day set aside by chefs all over the world to create awareness on the importance of the food industry and to honour the culinary profession.
The day to be celebrated for the first time in Ghana, this year, by the Ghana Chefs Association (GCA) would have members of the association visiting four and five star hotels in the country to discuss the need to promote local dishes in such hotels.
Mr. Stephen Cofie Dzilah, President of the Chefs Association, told the Ghana News Agency that the association would visit the La Palm Royal Beach Hotel; Labadi Beach Hotel; Cresta Royale Hotel; NOVOTEL and Golden Tulip Hotel to interact with their fellow Chefs to know their concerns in addition to discussing issues which border on the welfare of Chefs.
He said Chefs, who are not members of the association would also be educated on the need to celebrate the day while encouraging them to join the association whose primary objective is to seek the welfare of all chefs.
"International Chefs' Day is more than a special day to celebrate the ingenuity of the profession; it is indeed a day for these industry leaders and food lovers to celebrate the appreciation of food through goodwill," Mr. Dzilah said.
The commemorative day initiated by the World Association of Cooks' Societies (WACS) in 2004, is marked as a special occasion by chefs to salute the profession and create awareness of chefs, who have set remarkable industry standards for the art of cooking.
On the day charity events are held to raise funds for the under-privileged among those in international culinary community.